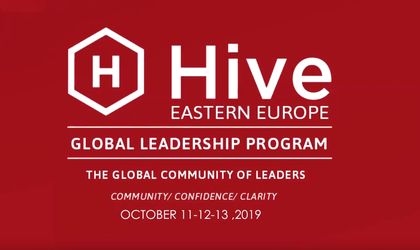 Hive Eastern Europe Chapter and Business Review Magazine are announcing the first edition of the Hive Eastern Europe Leadership Program, taking place in Bucharest on October 11-13, 2019. The event aims to bring together 100 participants from eastern European countries who want to work towards personal growth and building a better society, together with 25 speakers and facilitators from the US, Europe, Asia and Africa. The three-day program will provide participants with an open platform for personal and professional development, including speeches, interactive workshops and introspection moments.
Hive is a global community of leaders and entrepreneurs, founded in San Francisco, US in 2013. The Hive community includes over 2,800 executives, entrepreneurs, technology specialists, and innovators from 130 countries.
"We launched Hive out of the desire to create an international community of exceptional people who can address the problems our generation is facing and find practical solutions," said Ryan Allis, the founder of Hive. "We have developed a unique curriculum bringing together the personal experience of our members, the work of Tom Chi, the innovator behind GoogleX and the most important leadership programs developed in business schools around the world, including the Harvard Business School, the Singularity University Executive Program, Stanford d. School, Ashoka: Innovators for the Public, the Harvard Graduate School Leadership Institute, the Landmark Curriculum for Living," Allis added.
Alumni of the Hive Leadership program include executives of companies with turnovers of over 250 million US dollars, Olympic game winners, Harvard and Stanford professors, technology entrepreneurs, top engineers at Facebook, Google and Apple, researchers at the World Bank and the UN, astronauts and survivors of genocide in Rwanda, all of whom have become inspirational speakers.
"For me, Hive means a community of truly special people who have similar mindsets, energies and aspirations. Whether you've found your way in life or you're searching for it right now, Hive helps you advance towards fulfilling your dreams. I believe that Romania has great potential in terms of human quality and that together we can change our society for good," said Oana Molodoi, founder and coordinator of the Hive Eastern Europe Program.
Participants at Hive Eastern Europe automatically become members of the global community, having access to the Hive Social Network, online app and social media group, the Hive Global Summit, regional Hive events, monthly leadership courses, and any local event organized by Hive.
For more details about the Hive Global Leadership Program in Bucharest, including agenda, guest speakers and how to sign up, you can go to the program's official website: https://hive-easterneurope.org.