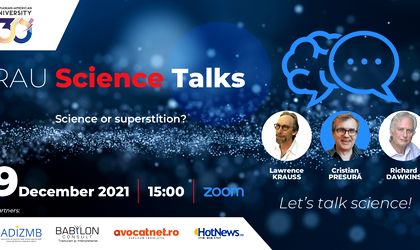 The Romanian American University is organising the "RAU Science Talks", an event that will bring to Romania for the first time some of the most famous scientists of our time. British biologist Richard Dawkins and American-Canadian physicist Lawrence Krauss will discuss the latest advances in science and answer today's big questions in dialogue with Romanian physicist Cristian Presură.
The event will take place on Thursday 9 December 2021, from 3pm, on the ZOOM platform. To book your attendance at the event, please go to this link.
More than 150 participants are expected, including students and pupils from educational institutions in Bucharest and the country. Inspired by international reference initiatives, "RAU Science Talks" aims to awaken and increase interest in science among the general public and young people in particular. The event is organized with the support of the Association for Intercommunal Development of Greater Bucharest-Ilfov (ADIZMB), an organization that aims, among other things, to support educational initiatives, and the translation company Babylon Consult. Hotnews and Avocatnet have joined the initiative as media partners.
Richard Dawkins is a well-known biologist in society who has written books for the general public in addition to his scientific work. He is a champion of humanism against fundamentalism of all kinds and of science against pseudoscience, and has been at the center of the debate between evolutionism and creationism for many years.
Lawrence Krauss is a renowned physicist, cosmologist, and retired professor at Arizona State University. He is also the President of the Origins Project Foundation and the Host of the Origins Podcast. Krauss has been praised by Scientific American magazine, which called him a rarity among intellectuals for his public talents. He is the author of over three hundred scientific articles and eleven books, including the highly successful The Physics of Star Trek. He also analysed Dyson's concept of eternal civilization and parallel universes.
Cristian Presură has a PhD in physics and is a researcher at Philips Research Eindhoven. He received his PhD in physics from the University of Groningen and then specialized in the field of medical sensors. Together with his team, he invented and launched the first watch that can measure the heart rate of athletes using optical sensors alone. He has published dozens of articles and patents. Cristian Presură is strongly committed to the popularization of science in Romanian. He is a member of the Science for All Association and author of the volume "Narrated Physics", which was awarded by the Romanian Academy in 2016.