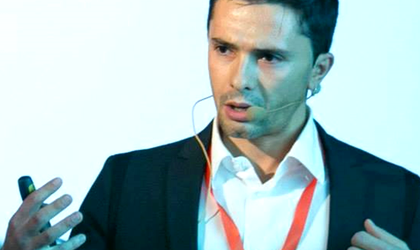 Emanuele Musa, Co-founder of BABELE, will join the first edition of Startup Path, the event aiming to support the growth of a stronger entrepreneur community in Romania and Eastern Europe, organized by Business Review on September 10-11 at Impact Hub Bucharest.
Emanuele will join the panel discussion titled "Fostering entrepreneurship community growth" on the first day of the event (September 10).
Emanuele is an expert in the fields of collective intelligence, business modeling and social impact. He has pioneered application of open strategies and collaborative business planning, combining online crowdsourcing tools with tailored design thinking frameworks for the innovation programs of universities, accelerators networks and corporations in 4 continents.
He has worked with organizations such as Ernst & Young, Berkeley University, the British Council, CDC Bank, Ashoka, etc. to create and engage online networks for business model innovation, mentoring and peer-collaboration. Emanuele has held over 40 workshops and boot-camps on business modeling, impact assessment and stakeholders engagement, having trained over 500 entrepreneurs in 15 countries.
He is a lecturer for international incubators and speaker at conferences for social entrepreneurship and open innovation (San Francisco, Vienna, London, Copenhagen, Paris, etc.). He is one of the co-writers of the book "crowdfunding for sustainable entrepreneurship and innovation".

Startup Path is an event dedicated to growth, to learning and to connecting the dots while having unique experiences. It brings together all actors of the startup scene, from universities, accelerators, to investors and thought leaders that would help entrepreneurs on their path to growth.
Business Review's vision is to help build, feed and support the growth of a stronger entrepreneur community in Romania and Eastern Europe by becoming a platform that best promotes young entrepreneurs and their interests, fosters collaboration, gives them access to networking and funding opportunities via a well established network and expands their knowledge through relevant and curated content and news.