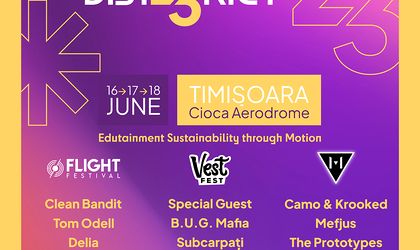 In the year Timisoara became the European Capital of Culture, three festivals (Flight Festival, VEST FEST and Magnetic Festival) come together to mark a first for Romania: the creation of a "city" outside Timisoara, at the Cioca airport, for a weekend full of music of all genres, technology and sustainable actions through the neighborhoods offered by each of the 3 events.
Flight Festival District: EDUTAINMENT – the only edutainment festival in Eastern Europe, a cultural journey and a source of inspiration in the form of a surprising mix of music, art and technology, a place of fun, but also of active relaxation that children and adults have so much needed.
VEST FEST District: SUSTAINABILITY – with the desire to use only green energy in the following years of existence, Vest Fest will arrange its neighborhood in District23 using only environmentally friendly materials. Recycling campaigns and actions to raise awareness of the carbon footprint of an event are also part of the focus of the organizers, who encourage the participants to be equally aware of the environment and global climate change.
Magnetic District: MOTION – Magnetic Festival is a project representative of the Drum and Bass musical style and made by young people for young people. Cultural workshops, activities that stimulate movement and dance and many other mobile surprises are part of what the organizers of this district have prepared.
District23 will have no less than three main stages and at least three secondary stages. In total, more than 30 artists and bands will be present, the first confirmed ones being: Clean Bandit, B.U.G. Mafia, Tom Odell, Subcarpati, Delia, Camo & Krooked, Mefjus, The Prototypes and a surprise guest.
With over 15 festival zones (V.I.P. Zone, Food Zone, Kids Zone, activation zones, urban beach, workshops and workshops, urban jungle, relaxation zones, sports activity zones), District23 becomes, in the year that Timisoara is the European Capital of Culture, the biggest festival in western Romania.
Subscriptions are available here and each subscription purchased provides access to all three festivals.