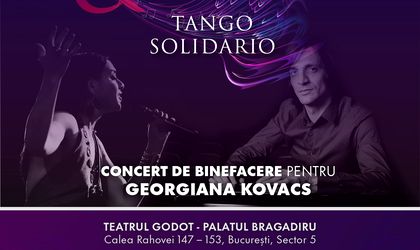 Argentinian artists Analia Selis and Mariano Castro will perform the Argentinian tango concert Tango Solidario on April 24, 20:00 at Godot Theatre, inside the Bragadiru Palace. Funds raised from the concert will be donated for the treatment of Georgeta Kovacs, a 45-year-old woman who is fighting an aggressive form of cancer.
The Tango Solidario concert brings together the talented artists Analia Selis (vocals) and Mariano Castro (piano) for a foray into the world of authentic Argentinian tango. The two will delight the audience with both traditional Argentinian tango pieces and tango composed by the master Astor Piazzolla. The curator of the concert is Simona Pop de Castro. The concert is in partnership with The Great Hill Society Club at Bragadiru Palace. Participation in the concert is possible by registering using this form and paying a minimum amount of 150 lei.
The donation should be made to the IBAN account RO57BUCU1111037793116RON in the name of Georgeta Kovacs. The funds raised from the concert will be donated for Georgeta's treatment.
Who are the two artists:
Analia Selis
Born in Tucumán, Argentina, Analia Selis settled in Romania in 2003 and over the following years developed a successful career as a Latin American pop singer. In 2004 she won the 3rd prize at the Cerbul de Aur International Festival (Brasov, Romania). She became very well known in Romania, where she was invited to perform on the most prestigious stages in the country.
In 2014, she made her debut as a tango performer and since then she has collaborated with all the orchestras in Romania, as well as with orchestras in Switzerland, Czech Republic, Lithuania and Argentina, under the guidance of famous conductors such as József Horváth, Tiberiu Soare and Kaspar Zehnder.
Analia has performed with talented musicians such as Omar Massa (bandoneon), Mariano Castro (piano) and Rafael Butaru (violin). She has been invited to perform with well-known ensembles such as the Gaudeamus Quartet, Kamerata Krondstadt and the Contempo Quartet, as well as at major music festivals such as the George Enescu International Festival (Romania), the Radio Song Festival (Beijing, China), and the Kammermusiktage Barth Festival (Germany).
Between 2015 and 2019, she launched three successful musical projects: Tango Simfonic (first edition), Tango Simfonic "Milonga de mis amores" (second edition) and the ArgEnTango project. In 2022, she launched the Interbelic Simfonic project, dedicated to her audience in Romania.
Today, she continues to promote traditional Argentine tango and the music of Astor Piazzolla both in Romania and Europe.
Mariano Castro
Born in Buenos Aires, Mariano Castro is a complex musician, pianist, guitarist, composer, orchestrator. He settled in Romania in 2013, where he brought with him his vast musical culture, a world-renowned status and a great joy of playing.
Mariano has to his credit more than 30 international tours in many countries in Europe and around the world, such as the United States, Canada, Brazil, Ecuador, Italy, Switzerland, Germany, Romania, Czech Republic and Lithuania. Together with the band Narcotango, he has been nominated twice at the Latin Grammy Awards (2009 and 2010) in the category "Best Tango Album", in the triple capacity of performer, composer and orchestrator.
In 2014, the Congress of Buenos Aires declared him an Outstanding Person of Culture of Buenos Aires, for his entire artistic career and for his artistic contribution to the promotion of Argentine culture.
In recent years, Mariano has collaborated as pianist and orchestrator with ensembles such as ArgEnTango, the Passione Quartet, the Klaipeda Chamber Orchestra (Lithuania) and the Hradec Kralove Philharmonic (Czech Republic) and has performed with talented artists from around the world, including Analia Selis, Rafael Butaru, Luiza Zan, Carlos Libedinsky.
The story of Georgeta, a woman battling an aggressive form of cancer
Georgeta is a 45-year-old mother of an eight-year-old boy, Andrei. She is a strong and optimistic woman with a winning spirit and inner strength that has helped her face enormous challenges. She works two jobs in parallel to make sure her son and family get everything they need. Now, she fights for healing, motivated by a desire to see her son grow up, with the hope that she can continue to enjoy life with her family.
In March 2022, Georgi – as she is called by her close friends – was diagnosed with locally advanced multicentric invasive luminal B cancer. The situation is all the more difficult as it comes on the back of an autoimmune disease, autoimmune thrombocytopenic purpura, which started when Georgeta was pregnant nine years ago.
In Romania, hormonal treatment is the only treatment available for this form of cancer, so Georgi and her family found hope at a clinic in Turkey, where she had a successful operation to remove one of her breasts. She has successfully undergone several rounds of chemotherapy and radiotherapy, but still needs long-term treatment to keep the disease under control. This involves immediate costs of more than €20 000.
Every contribution counts and will help Georgeta continue the treatment she needs to get well. You can donate to IBAN account RO57BUCU1111037793116RON, in the name of Georgeta Kovacs.
Thank you from the bottom of our hearts!