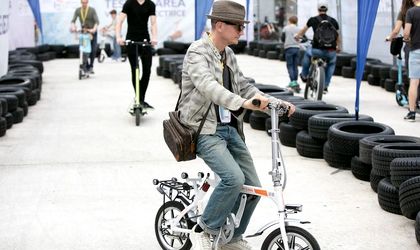 Between May 24-26, the University Square in Bucharest will become the centre of technology and innovation, with the largest gadgets and tech solutions exhibition in Romania, Tech Expo.
With over 60 exhibiting companies and hundreds of products based on VR and AI technologies, the fourth edition of Tech Expo connects people with technology in a wide effort to bring the future closer. The exhibition based in the centre of Bucharest integrates concepts that allow visitors to discover, test and even buy the gadgets they are interested in, by directly interacting with the exhibitors' representatives.
Improve your lifestyle with Smart Home solutions…
Who has never dreamed of being able to control all the appliances in their home and even the ambiance by the touch of a single button?
E.ON România brings for the first time at Tech Expo the Tado smart home solutions, that allow,  even remotely, the adjustment of the environment temperature, through a smart thermostat that can be used based on a mobile app to set the optimal temperature and the best air quality in each room. Therefore, the inhabitants of the household where it is used can save up to 30% on the electricity bill. Many other similar Smart Home systems, exhibited by companies such as Salus Controls or Netatmo systems can also be tested at Tech Expo.
Signify (previously known as Philips Lighting), world leader in consumer and Internet of Things professional lighting, presents at Tech Expo lighting systems that prioritize energy efficiency, sustainability and cost reduction. The Signify solutions provide customers with quality lighting that ensures the comfort of daily life, enhance safety and productivity and transform the environment by embellishing spaces and revitalizing communities.
Nothing can replace the comfort of a home that shines with cleanliness with a minimum of effort, therefore, iRobot, world leader in the development and distribution of household robots comes at Tech Expo with the latest vacuum cleaner robot.  Thanks to its unique navigation system with smart mapping, iRobot is perfectly oriented, covering in an optimum way the space of the room; it can be set remotely through the mobile app and it can automatically empty its own dirtbag.
… and drive everywhere you want, faster and more eco-friendly, with an electric or hybrid car
In recent years, electric mobility has undoubtedly redefined the way we move, pushing forward new innovative technologies that have revolutionised the automotive sector. From electric and hybrid cars, such as Renault Zoe, Ford Mondeo Hybrid, Suzuki Swift, Volvo XC60 T8 Twin Engine Plug-In Hybrid or Nissan LEAF, to electric vehicles charging stations – exhibited by companies such as E.ON România, Renovatio, Engie and Electromagnetica or small vehicles such as bikes or electric scooters, brought by  AirMotion, E-TWOW , Wolf E-Rides, NIU or FreeWheel, all these can be tested in the special electric vehicles area in University Square.
Entertainment is redefined by innovative multimedia technologies
Entertainment has always been a trendsetter of adopting new and innovative technologies, creating unique experiences and setting behavioural trends. This year, Tech Expo is launching a special area dedicated to gamers who can test the newest devices – from gaming mouses to gaming chairs (exhibited by PC Coolers), TO VR & AR solutions that will immerse visitors in a captivating experience. The newest HTC Vive takes users into an amazing journey, where they can move and feel unique sensations, with the help of elements of the surrounding environment.
For those keen on special effects, Modulab presents at Tech Expo the neural table, an interactive mechanism, controlled through neuro-electric brain signals of the user. By accessing a set of sensors and microcontrollers NeuroSky MindWave EEG, the player's brain activity influences the movement of a floating cube, as each player tries to push the cube to their opponent.
At the beginning of this year, Modulab created a platform that moves autonomously, avoiding fixed or mobile obstacles. It can be applied in many ways, from scanning prices in a store to transporting luggage in airports, guiding people in exhibitions or collecting data about the surfaces it moves on and interacting with children. At this moment, the studio has finalised two functional prototypes of the platform: an event photographer robot and an autonomous industrial cleaning platform. Both prototypes will be presented at Tech Expo.
And if any more proof is needed that robots are among us, you will certainly want to meet InMoov, the first open source robot that can be 3D printed, thanks to the very intuitive instructions and numerous ways of using it. At this moment, the "Friday" robot, as Modulab named it, is already a popular character with local folk culture, making an appearance in a series of videos and public events.  
The access at Tech Expo is free and is able only via online registration on techexpo.ro. The exhibition in University Square is part of Bucharest Tech Week, the tech festival that takes place during 20th – 26th May. Besides Tech Expo, the festival also comprises 5 Business Summits (during 21st – 24th May at Radisson Blu Hotel) – where international experts speak on topics such as Innovation, HR, Fintech, Java and .NET, along with a series of partner events organised at the same time across the city, transforming Bucharest, for a week, in the Capital of Technology.
For further information, follow the official communication platforms:
www.techweek.ro 
Facebook.com/TechWeekRO
Facebook Event – Bucharest Technology Week 2019
The main business summits' partners at Bucharest Tech Week 2019 are:
Presented by: George, first intelligent banking
Business Summits Partners:
IQOS – Innovation Summit Partner
Oracle – HR Masters Summit Partner
ABBYY – Fintech Summit Partner
METRO SYSTEMS – Java Summit Partner
UiPath –  .NET Summit Partner
Sponsors of Bucharest Tech Week 2019 are:
Microsoft, Engie, Carrefour, AirMotion, Moldova IT Park, E.ON România, Michelin, Electromagnetica, Luxoft, mirro, pAIdAnalytix, Auka, Endava, eSolutions, TotalSoft, ApPello, 2checkout, bitMahavi, Fitbit, Wolf Theiss, Gemini Solutions, Deloitte România, Trencadis
L'OR – Networking & Coffee Partner
Bright Agency – Digital Partner
VIVA Telecom – Internet Partner
Driven by BlackCab
Main Media Partners:
KISS FM, Business Review, CARIERE