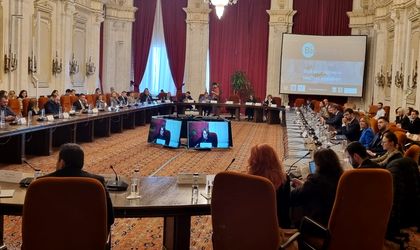 Romania needs a health innovation ecosystem to educate and support young people who come up with ideas in the field of health technologies, but do not have the entrepreneurial spirit or the resources to develop and carry out an innovative project. This was the idea behind the debate "Growing the health innovation ecosystem in Romania – challenges and solutions".
The event was hosted by Nicoleta Pauliuc, Chair of the Committee for Defence, Public Order and National Security of the Romanian Senate.
Nicoleta Pauliuc: "Romania can take a big step forward by adopting and developing state-of-the-art medical technologies, especially as the Romanian healthcare system is far from what Romanian taxpayers want and deserve. I am convinced that Romanian medical research has tremendous potential."
The debate was attended by Romanian officials, diplomats, academic and industry representatives, experts from Romania and from countries with a long tradition of innovation in healthcare, such as Israel, USA, Japan.
Attending the event, presidential advisor Diana Păun said:
"The future of healthcare is shaped by innovation. Young people are naturally the catalysts for new technologies and digital transformation. The BIOdyssey Innovation Hub has the potential to generate societal impact, by developing knowledge and innovation capabilities, but also the confidence of young Romanians in their ability to bring about change. Expertise from countries with a tradition of innovation in health, as well as external financial support, have the capacity to transform the ideas of young people in our country into solutions for improving health and the performance of the Romanian health system. By scaling up and adapting to the specificities of other countries, these solutions can contribute to global wellbeing and to building a culture of global innovation."
The debate follows the September launch of BIOdyssey, the first innovation hub for health technologies in Romania, which runs innovation and entrepreneurship programmes similar to those launched at Israel's Technion and Stanford universities. BIOdyssey offers aspiring MedTech entrepreneurs the opportunity to develop the necessary skills and grow a start-up – from idea to practical implementation.
"There are many brilliant, creative people who come up with brilliant ideas that could benefit the whole world. But these people lack the entrepreneurial spirit and the knowledge to put their ideas into practice. In fact, very few of these ideas turn into start-ups, and even fewer of these start-ups make it to the prototype level. BIOdyssey comes to fill this gap and aims to create a new ecosystem of innovation and entrepreneurship.  Romania is a recognised leader in science, mathematics, health and engineering. We just need to connect all these fields and create a link between creativity and entrepreneurship," said Professor Alon Wolf, co-founder of BIOdyssey and founder of the Biorobotics and Biomechanics Laboratory at Israel's Technion University.
—
"Technology has the potential to change medicine. And Romania has potential in this field through its human resources. We have very good IT people and very good doctors. Now we can build an innovation hub that will contribute to the growth of the innovation ecosystem in Romania. We have the support of foreign experts, of the authorities, we have the support of universities, companies and clinics, but also the financial support of the Romanian-American Foundation. What I think we lack is entrepreneurial education. And we lack all the actors that should be gathered around an innovation hub, actors that we have now brought together in this debate. The BIOdyssey Hub is dedicated to those who want to develop an idea, a start-up and don't know where to start and which path to take," added Elena Ovreiu, co-founder of BIOdyssey.
The BIOdyssey Hub is founded by entrepreneurship and medical technology experts from Israel and offers entrepreneurship programmes at the highest level of its kind in Romania. Two programmes are currently being launched for which applications are still open.
In the first programme, participants will learn how to innovate and put their ideas into practice, while the second programme will focus on go-to-market strategies and business development activities. BIOdyssey is open to all aspiring entrepreneurs for the first programme, called Germination, which is designed as an MBA for start-ups. The best teams from the first program will be selected to participate in the second program, called Acceleration, which will start next spring. Mentors will be able to follow teams and their projects from conception to completion. This medtech innovation hub provides a unique platform for MedTech investment opportunities.