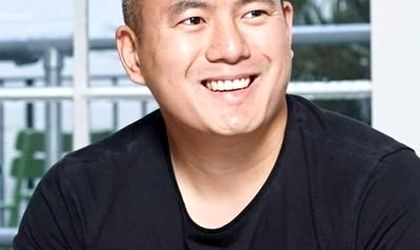 Bestselling authors, top international experts and speakers are coming to Bucharest in March, as part of the Future of Organizations, the largest coaching and leadership conference in Southeast Europe.
Among them is the famous Simon Alexander Ong, author of the bestseller Energize: Make the Most of Every Moment, about which the famous publication New York Times wrote "This is exactly the kind of book we need at the moment. With so much stress from all sides, Simon shows us what we can do to feel better in our lives". In addition to authoring books, Ong is also an entrepreneur, coach and public speaker. He will speak on March 2 about how personal energy can help business people to adapt more easily to a constantly changing world.
Marion Franklin, author of the international bestseller The HeArt of Laser Focused Coaching and business coach, and Jannet Harvey from the Thought Leadership Institute within the International Coaching Federation will also take the stage of the Future of Organizations conference. Along with them, during the two days of the conference, 13 other coaches, experts and speakers, from Romania and abroad, will be present, who will share their experience and vision on the trends observed in their practice with numerous organizations, as well as the skills so necessary for these in a world at full speed.
Future of Organizations, the largest coaching and leadership conference in Southeast Europe takes place in March in Bucharest
In the context in which the interest in coaching of organizations in Romania grows from year to year, ICF Romania organizes between March 1 and 2 in Bucharest, Future of Organizations, the largest coaching and leadership conference in South-Eastern Europe. Having as its main theme the way in which organizations will have to adapt to the future, by developing new skills for its employees, the conference targets the business environment, HR professionals, executive directors, coaching specialists, but also any person interested in coaching and leadership or who wants to explore new tools to improve their personal and professional skills. The conference in Bucharest will bring together experts, coaches with extensive local and international experience.
Four benefits of coaching that organizations in Romania must take into account
According to the ICF, coaching is a creative and stimulating thinking process that inspires people to maximize their personal and professional potential. The goal of coaching is to unlock people's potential and maximize their own performance.
Effective coaching supports people to change their way of thinking and establish new strategies to face various challenges. Open questions and encouraging clients' autonomy to assume certain reasonable risks will help them increase their self-confidence, so that they can find alternative solutions to work and life problems.
In the presence of a quality relationship, people who turn to coaching will feel valued and involved, because someone is offering their time and expertise to help them achieve their goals, in the case of the one who facilitates the coaching sessions. In addition, coaching helps people discover their own motivation.
The coaching market in Romania is approaching the threshold of 50 million euros, after annual increases of approximately 20%, according to the estimates of specialists in the field. However, the coaching market in Romania is far from the level in developed countries, which shows that there is great potential for growth. In addition, the pandemic and the war in Ukraine put pressure on managers and entrepreneurs, who, in this context, increasingly turned to professional coaching services.