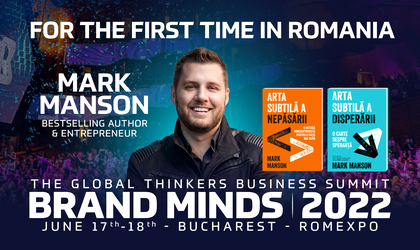 The author of some of the most successful motivational books in the world, Mark Manson is coming to Romania for the first time to attend BRAND MINDS 2022 edition, as a surprise speaker. Highly appreciated for the bestsellers "The Subtle Art of Not Giving a F*ck: A Counterintuitive Approach to Living a Good Life" and "Everything Is F*cked: A Book About Hope", Manson will share with BRAND MINDS attendees his key insights on how to improve personal leadership:
How Psychology, Economics and Biology impact personal development;
The key factors preventing professionals from achieving their goals;
How to improve life quality by applying frameworks drawn from Cognitive-Behavioral Therapy, Acceptance and Commitment Therapy, Dialectical Behavioral Therapy or Emotion-Focused Therapy.
With 15 years of research on how to live a fulfilling life and 3 x New York Times Bestselling author, Mark Manson helps people achieve their goals through science, by questioning their beliefs and assumptions on what makes life worth living. His books have sold over 14 million copies worldwide, have been translated into more than 65 languages and hit bestseller lists in 16 different countries. For Will, his 2021 book which he wrote in collaboration with Hollywood star Will Smith about his life story, Manson received the NAACP Image Award for Outstanding Literary Achievement. The book became an instant #1 New York Times bestseller and Oprah Winfrey declared about its content: "It's the best memoir I've ever read."
His books, "The Subtle Art of Not Giving A F*ck", "Everything is F*cked", and "Will" are also published in Romania at Lifestyle Publishing, part of publishing Group Trei.
15 million people read his site every year, making it one of the largest and most successful independent publishers in the world, reaching +1,000,000 people monthly. Also, 500,000 people receive his monthly newsletter.
Mark Manson is published in +50 of the biggest media outlets and TV shows on the planet: NBC, CNN, the BBC, GQ, The Guardian, Time Magazine, Larry King, Dr Oz, the New York Times, BuzzFeed and Vice.
20,000 people have taken his online courses at The Subtle Art School. Launched in 2022, The Subtle Art School is the collection of knowledge drawn by Mark from nearly 15 years of experience helping people lead better lives. The school helps attendants to focus on exploring what makes a fulfilling and meaningful life.
LESS THAN 30 DAYS UNTIL BRAND MINDS 2022
With over 5500 professionals from 50 countries expected to attend this year, BRAND MINDS is one of the top 5 largest business conferences in Europe. The 2022 event is a 2-day business edutainment experience that takes place in Bucharest, at Romexpo, on June 17th and 18th.
In addition to Manson's participation to the event, BRAND MINDS 2022 brings 7 more experts on the stage:
GARY VAYNERCHUK – CEO VaynerMedia – Investor & Entrepreneur
JORDAN B. PETERSON – World Famous Psychologist & Bestselling Author
DANIEL PINK – #1NY Times Bestselling Author & Sales Expert
JONAH BERGER – Consumer Behavior Expert
WHITNEY JOHNSON – Team Performance Expert
ANGELA OGUNTALA – Futurist & Innovation Expert
GABOR MATÉ – Respected Physician, Speaker & Bestselling Author
DAN ARIELY – Renowned Behavioural Economics Expert