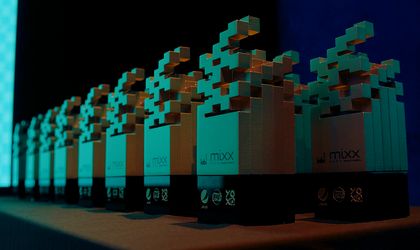 The IAB MIXX Awards Europe, the European advertising festival that rewards the best campaigns in the region, has opened entries for the 2023 competition. It's an important opportunity for industry professionals to prove they're internationally competitive, and last year they succeeded to show that: Romanian agencies went home with two Gold and one Silver award, but also with the most coveted award: the Grand Prix! This year too, all European campaigns that have entered a national or international competition are invited to participate.
The local event, IAB MIXX Awards Romania, gathered over 100 entries from 28 agencies and 36 brands. The jury representatives noted that the level of registrations increased from one year to the next, and the cases had solid arguments, so international distinctions are also expected for the Romanian campaigns. The awards ceremony took place in a rather informal setting, a party that brought together hundreds of marketing people from companies, freelancers and employees from media outlets, creative or PR agencies, journalists, and publishers.
"The local edition of the IAB MIXX Awards 2022 has come closest to the ideal for which the organizing team has been fighting since the beginning. The event had an intimate atmosphere, and the quality of the entries reached the highest level so far. The hall mingled with the stage on several occasions, and the discussions were candid. Nothing extraordinary was born after a light discussion, and in this edition different points of view were expressed without shyness. I observed a genuine exchange of ideas and perspectives. We hope that this kind of dialogue will further contribute to a solid foundation for a more and more powerful local creative industry on an European level. We have a tough task at the IAB MIXX Awards Europe after last year's results, but I'm confident we can match them, if not surpass them. I hope to be joined by many industry colleagues on May 23rd  and 24th at Interact and at the awarding of the IAB MIXX Awards Europe in Madrid", said Andrei Dragu, Event Director IAB MIXX Awards, vice president of IAB Romania and COO v8.
At the international level, there are 20 categories open to campaigns in 2023, out of which 2 are new: Retail Media and Sustainability Campaign. Entries for the IAB MIXX Awards Europe are open on the IAB Europe website until 14 April, but until 10 March they benefit from a special rate. Details about entries and the jury here: https://iabeurope.eu/interact/mixx-awards/.