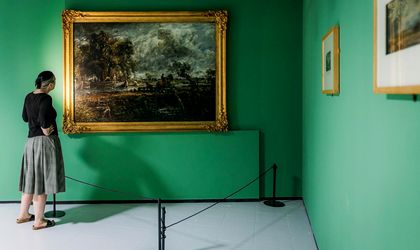 The most treasured art collection existing now on the territory of Romania can be seen in the heart of Bucharest.
Ioana Ciocan, General Manager Art Safari: "We invite you to attend a show built around art, experience famous paintings, different eras and immersive installations! It is a great joy to welcome the Victoria and Albert Museum to Art Safari and be able to offer this unique experience to our public. We also want to thank to the Bucharest City Museum, our host and organizational partner, but also to the Ministry of Culture. We thank to our partner museums in the country and private collectors and to all those who have been supporting us in the last 10 editions, especially the 300,000 visitors."
Two Pavilions, five spectacular art exhibitions
The International Pavilion
The exhibition "Seeking Truth: The Art of John Constable" (A V&A Exhibition – Touring the World) is brought to Romania for the first time, through a partnership with Victoria and Albert Museum, London, a leading art museum in the world. It comprises a selection of over 80 works – most of them signed by John Constable (1776-1837), a famous British landscape artist and also a great collector of masters of his time. But he also collected art works by Rembrandt, Albrecht Dürer, Claude Lorrain and other big names from the London museum's collection that can be seen as well in the exhibition at Art Safari.
"We are delighted to present the V&A's unique John Constable collection. It is the first time that an exhibition of the greatest British landscape painter has been hosted in Romania, in Eastern Europe, and we are excited to present the breadth of his career. 'Seeking Truth: The Art of John Constable' takes visitors on a journey through Constable's life and explores his artistic vision, sources of inspiration and his fascinating practice", declared the curators of the exhibition, Dr. Katharine Martin and Emily Knight.
The exhibition "Korean Beauty in Poster Art", organized in partnership with the Embassy of the Republic of Korea in Romania, brings to young audiences' attention a contemporary vision of the Korean culture and the beauty of the Korean alphabet (Hangul) through the visualization of its shape and content, but also of the Korean lifestyle. The poster art expresses 'Koreanism' and it tries to explain today's Korea of Kpop, kimchi flavour and technology, connecting the traditions of the past with the present. The exhibition will be highlighted by Hangul typography and calligraphy workshops instructed by the creator of the poster arts presented in the exhibition, Mr. Byoung-il Sun, a multi-awarded graphic artist and professor from the Republic of Korea.
The Romanian Pavilion
The exhibition "Ștefan Popescu. The story of travels" (curator: Dr. Elena Olariu) organized in partnership with the Bucharest City Museum brings to public's attention a major interwar artist, celebrated 150 years after his death.
Although he lived a large part of his life in Paris, alongside Constantin Brâncuși, Ștefan Popescu was one of the most awarded Romanian artists, in Romania and abroad. Among other things, he is the only Romanian artist who participated in three editions of the Venice Biennale. Ștefan Popescu was one of the painters most appreciated by Queen Maria, who purchased his art works for her private collection. France, Turkey, Morocco, Tunisia, Algiers, Switzerland, Italy, Greece, Yugoslavia, Germany are just some of the countries that he painted, many of which are in the exhibition at the Dacia Palace.
The exhibition "Lilian Theil. An old woman who smiles" (curator: Raluca Ilaria Demetrescu) brings to public's attention an artist with an atypical path, just like her personality. The novel and original creation of the artist of double Romanian and German origin (re)starts at an age when others consider retirement. Born in Brașov in 1932, Lilian Theil has a special technique: she paints with a sewing needle. Reflective and deeply philosophical, Lilian Theil's stitched, drawn and needle-painted creation expresses life and death, local and European history, centuries and accidents, youth and old age, decay and hope, kindness or deportation and torture, beliefs and irony.
"Mihai Muresan. Small things" (curator: university professor Dr. Ioan Sbârciu) is another exhibition focused on meditations, this time signed by a young artist. Graduate of Art University of Cluj-Napoca, Mihai Mureșan is a profound artist with a precious thoroughness in details. Landscapes and city fragments, influenced by his mental states, exercises to clarify the surrounding world, but also the interior one.
Art Safari Kids, the educational program of the largest event dedicated to art in Romania, includes creative workshops for children aged between 3 and 12. They will be coordinated by teachers from Step by Step Center in Bucharest, the educational partner of Art Safari.
Program and tickets for Art Safari – 10th edition
Art Safari can be visited between September 23 and December 11, 2022, from Thursday to Sunday in Dacia-Romania Palace located in the Old Center of Bucharest (Str. Lipscani, no. 18-20). Visiting hours: 12 – 9 p.m. Night Tours are available every Friday and Saturday between 10 p.m. and 1 a.m. These are special visiting experiences that include a guided tour of the exhibitions, live concerts and prosecco. Art Safari also offers guided themed daytime tours (in English and French too). Tickets can be purchased on the website but also at the entrance.