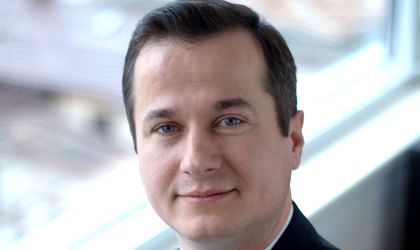 Antoniu Panait, Managing Parter at Vastint, will be a speaker at the 18th edition of BR's REALTY Forum, its flagship event for the Romanian real estate market, taking place on May 15, at ARCUB, in Bucharest's historical district, starting at 2 PM.
Antoniu Panait has an executive experience of more than 10 years, mainly in real estate, and has been leading Vastint since 2009. With a strong foundation built on legal studies, embracing diverse operational responsibilities including administrating complex portfolios and evaluating investment opportunities, he took on the challenge to build and grow the VASTINT team and projects in Romania at only 31 years old.
He will speak in the second panel of the conference – New trends in Office | Residential | Mixed projects, detaling Vastint's latest developments and what the company is planning for the coming period.
Panait has been a promoter of mixed-use projects that provide people with all they need in order to have time to focus on their personal lives instead of spending time in traffic and accummulating stress. "In this so-called urban jungle, there is a need for micro-climates that can offer office, residential, commercial spaces – and that's how we started our project in Timpuri Noi, trying to find solutions and develop very big projects," said Antoniu Panait in a panel during REALTY Forum 2018.
BR has been covering the impressive growth of the property sector over the last 18 years and the challenges stemming from economic headwinds and shifting trends of consumers.
The real estate sector continues to progress as more Romanian entrepreneurs and large foreign funds are developing quality projects that can compete with similar ones in other international cities. REALTY Forum will review the development of the sector in the past 18 years and will also start a conversation about the future of real estate and its innovation potential driven by technology.
To mark this 18-year milestone, we will also invite our guests to stay with us after the conference for an Anniversary Cocktail, starting at 6:30 PM.