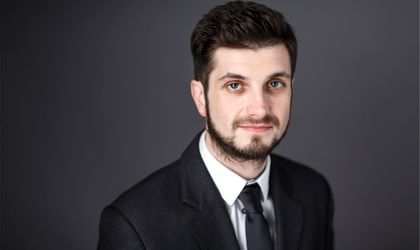 Andrei Georgescu, Partner at Suciu Popa, will be a speaker at the sixth edition of Business Review's Foreign Investors Summit, taking place on October 29-30 at the Sheraton Hotel in Bucharest.
He will take part in the panel discussion "Investments in IT, Tech & Telecom" on the first day of the Summit.
"The Romanian software and IT services industry is a rightful star of the local economy, generating over four times higher added value per capita than the country's economy's average. Romania is a highly interesting market, mainly due to broad technical expertise in leading-edge technologies, and soft skills – open-mindedness, enthusiasm and excellent language skills. I believe Romanian companies will continue to impress with their approach to new technologies, creativity and diligent software quality assurance," Georgescu tells Business Review.
Andrei specializes in competition law, State aid, pharma and TMT. He provides constant advice and representation to both national and international clients in a diversity of matters from merger control, antitrust investigations and dawn-raids, distribution structures and franchise agreements. Andrei is also an intellectual property and data protection adviser. He delivers "one stop shop" services on trademark, design and copyright protection, having advised many household names from pre-launch copyright and branding advice or advertising clearance to trademark, design and copyright protection and enforcement. Andrei is also highly specialised in IT and data protection legal and contractual issues and remedies.
---
As of last year, Poland became a full member of the group of the most developed nations in the world, thus creating a path for Romania to join this elite group before long. Recent economic, political and social developments in our country, steady economic growth, a highly regarded Presidency of the Council of the European Union, reinforcement of the state policies through elections, have altogether created an ideal context for a new brighter perspective on the future.
• Is there a real evolution in Romania's development and how we are to benefit from the new global positioning of our country?
• Is a spike in FDI rate to be expected after two years of stagnation?
• Have the local markets reached maturity, especially those with a traditional appeal to foreign investors: energy, IT, real-estate, services, banking and agriculture?
Answers to these important questions and many more will be debated during a comprehensive analysis of the market and of the foreign investors' perception of Romania in the years to come.
Business Review proudly presents the 6th edition of the Foreign Investors Summit, the event that brings together foreign business communities, state authorities and diplomats. Join us, professionals across the main industries, an exceptional line-up of speakers and representatives of major FDIs in our country, for a discussion on leadership and ways to build a brighter and more sustainable future for Romania.