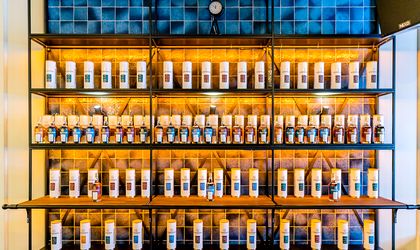 Almost 1 year from the reveal, Carpathian Single Malt Whisky has reached 13 expressions and the range continues to extend at an accelerated pace.
Alexandrion Group presented the extended range of Carpathian Single Malt to whisky afficionados from the Transylvania region, but also to those who are just becoming familiar, with this spirits category, during an event organized in Cluj-Napoca, at the Bardot bar.
The event is the first of the regional events series that Carpathian Single Malt Whisky will organize, this year, in a plan to reach all those wanting to taste the first ever single malt whisky produced entirely in Romania, at the Alexandrion Saber Distilleries 1789, located in the heart of the Carpathian Mountains.
Dr. Nawaf Salameh, the Founding Chaiman of the Alexandrion Group, said:
"After the commercial launch event, that we organized in Bucharest, last year, we aim to travel throughout the country with Carpathian Single Malt and give everyone the opportunity to try a single malt whisky produced entirely in Romania, using the highest quality natural resources.

We are creating the opportunity to do just that, in a relaxed setting, surrounded by our expert team that can best tell the remarkable story of this whisky so far. Through these events we also want to thank all those who have supported us since the launch of the project and who live in different regions of the country, visiting them in their home city.

We started with an event organized in the Transylvania region, because we have a long history there, solid partnerships, built over the years. We also have many consumers and buyers, there, who are open to trying and appreciating top quality Romanian products and who feel proud when a recently launched national product demonstrates that it can successfully compete with established international products, with long standing tradition, such as Carpathian Single Malt Whisky has managed to prove in only one year.

We are delighted to see such a high demand from retailers and HORECA locations in this region, which shows us that our whisky is already highly appreciated here as well. We will continue the listings in many other locations planned over the coming months"

"Transylvania is a strategic region for us, where we want to make long-term investments in several business areas including F&B, hospitality, energy, real estate, where we see many opportunities", added Dr. Salameh.
The Carpathian Single Malt Whisky range has expanded, in less than 1 year since its launch, to 13 expressions: Fetească Neagră, Pinot Noir, Madeira, Chianti, Oloroso, Pedro Ximenez, Tawny Port, Burgundy, Cognac, Amarone, Ruby Port, Vradiano and Commandaria, the latter being created exclusively for the Cyprus and Greece markets.
The most recent expressions are: Amarone – part of the Italian Wine Cask Collection, Ruby Port – an expression that belongs to Spanish & Portuguese Wine Cask Collection and Vradiano, from the Greek & Cypriot Wine Cask Collection.
Initially matured in hand selected American white oak, ex-Kentucky Bourbon 200L barrels and then carefully transferred for finishing in 225L Amarone wine barrels from a family winery located in Fumane, Valpolicella region, Italy, Carpathian Single Malt Amarone appeals to particular whisky connoisseurs.
The Ruby Port expression stands out through a special sweetness, with red fruit hints, which perfectly complement the vanilla notes conveyed by the bourbon barrel in which it was matured.
The Greek Vradiano wine influences the taste of the new Carpathian Single Malt Vradiano expression with its balanced vanilla hints. This expression, as well, benefited from a first maturation, for three years, in American white oak ex-Kentucky bourbon barrels, at the first filling, with a capacity of 53 gallons.
The attributes of the 13 expressions – appearance, smell, taste, finishing notes – are detailed on the website www.carpathian-singlemalt.com.
Carpathian Single Malt is available now for consumers and shoppers in Romania in the 0.7 l version via the online shop www.iconicdrinks.shop , part of the Alexandrion Group and via the brand website www.carpathian-singlemalt.com. It is also available in premium specialized shops, HoReCa and retail locations and other specialized e-commerce platforms throughout Romania.
Produced entirely from Romanian ingredients
Carpathian Single Malt is made using 100% malted barley produced in Romania. This single malt is distilled, matured and bottled at the Alexandrion Saber 1789 Distilleries, located in Bucov, Prahova county, near the Carpathian Mountains. The first ever Romanian single malt whisky is made with pure Sub-Carpathian water, renowned for its quality, is natural in colour with nothing added or removed, non-chill filtered to retain all the natural colour and flavour and bottled at 46 % alcohol.
Carpathian Single Malt also has expressions matured in Romanian wine casks, another world premiere in terms of single malt production. Alexandrion Group becomes, thus, one of the few companies in the world that use casks from their own wine production facilities to mature single malt whisky.
The visual identity of Carpathian Single Malt was created by the agency Appartement 103, member of the Marie Claire Group.
The Master Distiller of the Carpathian Single Malt is Allan Anderson, with both Scottish and Irish heritage, who has more than 30 years of experience in producing both Scotch whisky (Loch Lomond, Whyte & Mackay, Aberargie) and Irish whiskey (The Great Northern Distillery). He also designed the distillery of Slane Castle Ireland.