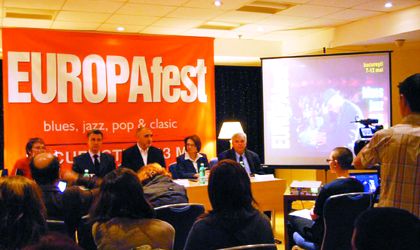 Music festival EUROPAfest is about to liven up the Bucharest cultural calendar for the seventeenth consecutive year.
It expects to showcase over 250 musicians from 36 countries from May 7-May 13 through a series of jazz, blues, pop and classical music events. EUROPAfest has grown to be the only European festival to unite four musical genres.
It also promises plenty of choice in terms of location. Concert halls as well as the more informal Hard Rock Café have previously served as venues.
Hosted by jmEvents, the festival prides itself on its originality and diversity.
Luigi Gageos, EUROPAfest director, cited a festival attendee's testimonial at the press conference on April 7: "Upon leaving a EUROPAfest concert, you certainly feel more 'European', because you suddenly feel connected to the culture of the wider world. The festival is a breath of fresh air in the cultural platitude offered by the Bucharest market."
However, the festival itself highlights the development of Romania's cultural scene within the wider context of the country since the early 1990s.
In 2005, their Royal Highnesses Princess Margareta and Prince Radu began to oversee the evolution of EUROPAfest under their High Patronage.
Duke Radu said: "Another important virtue of this festival is that it manages to make itself convincing towards institutions and companies; few cultural activities today capture the interest of public institutions or of companies with economic activity."
The Representation of the European Commission in Romania is such an institution.
EUROPAfest this year rides on the tide of Romania's appurtenance to the EU. The opening concert on May 7 is dedicated to the Commission's celebration of Europe Day on May 9. Doina Serban speaks
in the name of the EC Representation: "We consider ourselves to be amongst EUROPAfest's friends, we're its partners. We are
glad to see that this year's opening concert is dedicated to Europe Day."
The festival emphasizes quality over the commercial and its organisers have decided to offer free entry to students.
Tickets will be available from April 12 from Diverta stores and online at www.bilete.ro, www.ticketfan.ro and www.myticket.ro
The festival's highlights, with times and locations to be confirmed:
May 7 / Opening Concert – Europe Day Celebration
May 8 – 12 / Jazz, Blues & Pop Concerts bands from Europe and special guests from other countries
May 7 – 12 / Caffe Festival – jazz, blues, pop blues, jazz and pop concerts in unconventional spaces
May 8 – 13 / Bucharest International Jazz Competition 100% jazz & more… the new jazz generation in the world – 15 bands representing 21 countries
May 8 – 12 May / Jeunesses International Music Competitionpiano concerts, 4 age categories – 71 pianists representing 23 countries