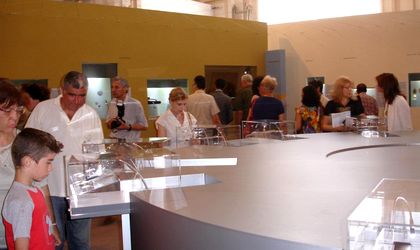 The National History Museum of Romania (MNIR) offers the public an event entitled  "Cultural Insomnia", on Saturday, August 25, that will give museum's visitors the opportunity to see the institution from a different perspective.
According to the MNIR, the museum will open its gates to visitors between 4 pm and midnight.  The public can visit the permanent exhibitions, Historical Treasure and Lapidarium (which includes the copy of Trajan's Column) and the temporary exhibitions hosted in the central lobby. For this  first edition of "Cultural Insomnia", the visitors can see "Formerly childhood, at countryside", "Genio Helvetico. Historical watches and Swiss music boxes from Romanian collections" and "Basarabia 1812 – 1947. People, places, borders" temporary exhibitions as well as the exhibit of the month –  Hieromonk Spiridon's Tetraevanghel.
The museum will organize similar events during the same visiting hours on every last Saturday of September and October.
Address: 12 Calea Victoriei.
Photo courtesy of the National History Museum of Romania
Oana Vasiliu