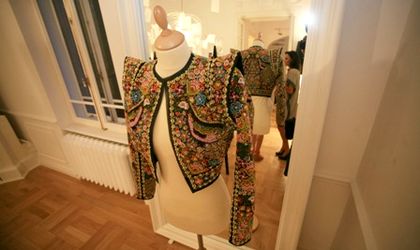 The 100%.RO association is launching today the 100%.RO couture collection aimed at fighting negative stereotypes about Romanians. Titled Prejudices, the fashion collection was designed by Phillippe Guilet, and was designed with the support of tens of Romanian craftsmen and designers from Maramures, Bucovina, Brasov, Bistrita and Bucharest. The collection is inspired by the Romanian cultural heritage and will be showcased at an event hosted by the French embassy in Bucharest.  
The 100%.Ro couture collection is the pilot project of the cultural initiative with the same name, a private project looking to promote Romania's image by developing projects that bring new perspectives on the Romanian cultural patrimony. The initiators of the project plan to present the fashion collection in Paris at the beginning of 2012.
The 34 items in the collection feature modern interpretations of local cultural traditions – the painted Easter eggs, traditional Romanian clothing, the sculpted Maramures wooden gates, the endless column, roofs of traditional Romanian houses or the cable wires in Romania's large cities.
Designers contributing to the 100%.RO collection include Mihaela Glavan, Kristina Dragomir, Claudia Castrase, Ioana Matei, Maria Filipescu, the DaDa fashion studio Lo Spaccio and Mesteshukar ButiQ, Atelier 13, and numerous manufacturing sites the country.
The craftsmen participating in this collection include Virginia Linul, a crafts artist from Bucovina area of Romania; Ileana and Traian Nicolaica, furriers from Suceava county; Istvan Iuhasz, a scultptor and carpenter from Baia Mare, Maramures county; Eva Thanhofer from Baia Mare; Maria Zapca from Baia Mare; Karmen Violeta Roman, lace maker from Feldioara, Brasov county; Ileana Jucan from Manastirea Humorului, Suceava county. Eleven Roma-origin silverware makers also contributed to the collection.