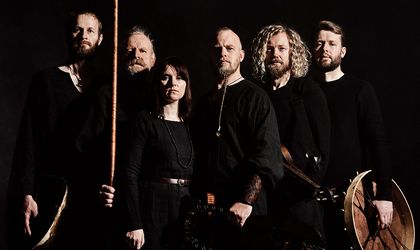 Wardruna, Haken, TesseracT, Port Noir and Vulture Industries will perform next year at the 16th ARTmania Festival, which will take place in Sibiu from 28 to 30 July.
By Romanita Oprea
The Norwegian neo-dark folk band Wardruna, who had a sold out tour in Europe this year, will take the stage four years after their first show at ARTmania, when they presented their album "Skald" (2018).
Next year, the musicians will also bring their latest compositions included on their fifth album, "Kvitravn", released in early 2021.
"For me, this album represents a natural continuation and development of everything we have done so far. Through experience, reflection and hungry curiosity, we potentially continue to grow as humans, scholars and musicians and with this constant movement, our ability to dive deeper into our work also grows. More clearly than before, does this album and its songs address us as humans in our own time. And even though the songs convey ways and words originating from a distant past, they are still just as much ways and words for «now»," says Einar Selvik, the band's frontman, about the latest record for which both traditional and very old instruments were used.
Einar Selvik started Wardruna in the early 2000s with Lindy-Fay Hella. The group made their recording debut in 2009 with 'gap var Ginnunga', the first album in the "Runaljod" trilogy, which is under the sign of 24 runes. The second album in the trilogy, "Yggdrasil", was recorded with some of the oldest traditional Nordic instruments. The last album of the trilogy, entitled "Ragnarok", was released towards the end of 2016, and two years later, "Skald" was released. In addition to the distinctive musical style translated into live performances, Wardruna is also known for the soundtrack of "Vikings" series.
British progressive rock band Haken will return to ARTmania Festival five years after their first appearance on the festival stage.
Formed in 2007 by multi-instrumentalist Richard Henshall, guitarist Matthew Marshall and lead singer Ross Jennings, Haken made their recording debut three years later with "Aquarius". The band's lineup has changed over the years, consisting now of Ross Jennings (vocals), Richard Henshall (guitar and keyboards), Raymond Hearne (drums), Charles Griffiths (guitar), Peter Jones (keyboards) and Conner Green (bass).
The band is currently gearing up for the release of their seventh album, "Fauna", in 2023, which features the single "Nightingale", released this year.
TesseracT (UK), Port Noir (Sweden) and Vulture Industries (Norway) will perform for the first time next year at ARTmania Festival.
The foundations of English progressive metal band TesseracT were laid in 2003, and for the first four years it was the solo project of guitarist Alec "Acle" Kahney. Today, the group also includes Daniel Tompkins (vocals), James Monteith (rhythm guitar), Amos Williams (bass) and Jay Postones (drums, percussion).
TesseracT, considered a pioneer of the djent style, has released four studio albums so far, "One", "Altered State", "Polaris" and "Sonder", and two live albums, "Odyssey/ Scala" (2015) and "Portals" (2021). Their most recent recording release is "Regrowth", an EP released this year.
Swedish group Port Noir, a mix of old school rock, progressive, hip hop and R&B, debuted in 2011 as a project of Love Andersson (bass, vocals), Andreas Wiberg (drums) and Andreas Hollstrand (guitar, keyboards and backing vocals).
Port Noir quickly attracted the interest of the music community with its distinctive sound, also inspired by artists such as Queens of the Stone Age, Daft Punk, Rage Against the Machine and The Weeknd. The band made their recording debut in 2013 with "Puls", which was followed by "Any Way the Wind Carries" (2016), "The New Routine" (2019) and "Cuts" (2022). During this time, they have continued their rise, going on to tour with bands such as In Flames, Pain of Salvation and Karnivool.
Vulture Industries, a Norwegian avant-garde progressive metal band, formed in 2004 with members of the goth rock band Dead Rose Garden at its core.
Its first album was released in 2007, the critically acclaimed "Dystopia Journals", followed by the also well-received "The Malefactor's Bloody Register" and two other studio releases.
In recent years, the band has been part of the lineup of several genre festivals in Europe, and in Sibiu will bring a show recognized for its scenography and theatricality.
Wardruna, TesseracT, Port Noir, Haken and Vulture Industries join Porcupine Tree (UK), Emperor (Norway), SAMAEL (Switzerland) and Pain of Salvation (Sweden) who have been confirmed for next year's festival. More to be announced soon.
Passes for ARTmania Festival 2023, part of the project "Musical Bridges Through Cultural Entrepreneurship", can be purchased on the official website (www.artmaniafestival.ro) and on iabilet.ro for 400 lei/piece + taxes (80€ + taxes).