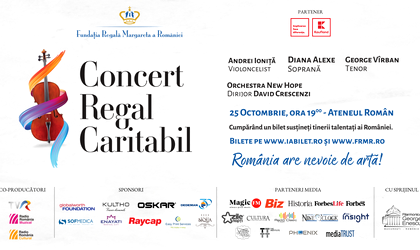 On October 25th, the Royal Margareta Foundation of Romania invites you to join the Royal Charitable Concert, for a spectacular evening at the Romanian Athenaeum, in the presence of the Royal Family.
The Royal Charitable Concert is one of the longest-running and most successful fundraising events in Romania, organized into support of the national Young Talents program. We are going to have a royal experience, enjoy classical music in an unique interpretation, pass through the visual art exhibition in the foyer and socialize with the noble supporters of Romanian art and culture.
Andrei Ioniță, Diana Alexe and George Vîrban are the protagonists of a special musical performance, accompanied by New Hope Orchestra, conducted by David Crescenzi. These young musicians, nowadays applauded on important stages of the world, from Carnegie Hall, New York, London, Shanghai, Munich to Vienna, reunite on October 25 to give us an emotional show of canto and cello on the stage of the Romanian Athenaeum.
Andrei Ioniță is one of the most appreciated cellists in the whole world. His career took an extraordinary turn in 2015, when he became the first Romanian to win the gold medal at the most important classical music competition worldwide, the Tchaikovsky Competition in Russia.An
Andrei, Diana and George are the Foundation's scholarship holders from the first generations, now valuable musicians of the world. They are the successful ambassadors of the Young Talents project, and through their musical performance, they will support other upcoming artists, as a gesture of payback for everything they have received and become. They are the result of the involvement and investment made by donors and sponsors vision, resources and love for the arts.
Get involved for Young Talents support!
Buy tickets to the Royal Charitable Concert here and this way you participate with a donation to support the Young Talent scholarships.
Become a Sponsor for Young Talents scholarships – awarded as the Best Arts and Culture project in Romania, at Civil Society Gala 2022. Your sponsorship amount is deducted from profit or income tax.
Romania needs art! The funds raised after the Royal Concert will support the new generation of Romanian artists, with scholarships, mentoring and promotion. New musicians and visual artists will have the opportunity to develop their potential and follow their dreams. Learn more on https://www.frmr.ro/concert-regal/