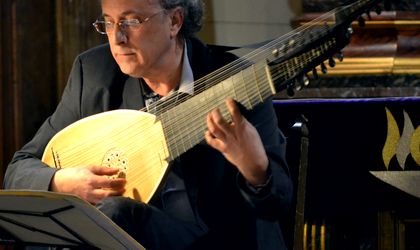 Known as one of the most significant contemporary specialists in historical interpretation and plucked string instruments, such as the vihuela, lute and guitar, Spanish musician Jose Miguel Moreno was in Bucharest for a concert organized by the Cervantes Institute. He talked to BR about his work restoring historical instruments and popularizing this type of interpretation.
What attracted you to historical interpretation?
I like going to the original sources, rediscovering forgotten composers and also forgotten instruments. And, with this, being able to offer something very big to the public, who normally don't have access to it. They have access to paintings, architecture but not to music.
How do you know you have managed to produce an instrument as it was done centuries ago?
With some instruments it is easy because there are many still left, for instance the post-romantic guitar or the baroque guitar, with which there is no problem, or the lute. There is a problem with the vihuela (e.n. a 15th-16th century guitar-type string instrument in Spain, Portugal and Italy) because there are only three left in the world and they are not originals. But there is the music of the period, and much written information.
How can the sound of a string instrument in the 16th century be evaluated? And how is it different from the sound of a contemporary instrument?
In the 16th century they were looking for a certain sound, just as they were developing a specific poetry or architecture. There is an esthetics of the time that is very important. And so the music was written according to the Renaissance esthetics. And the Renaissance esthetics of Romania is not that same as that of Germany or Spain. And it keeps changing all the time. So the contemporary sound is for contemporary taste and the sound of a vihuela belongs to the esthetics of the 16th century. It is neither better nor worse. It is different.
Technically, what makes it different?
The construction of the instrument, its shape, the type of strings that are used, the tension of the strings and also the use of the techniques of the time. To play the vihuela one cannot use the techniques of the modern guitar because it wouldn't sound of anything. One needs to use techniques appropriate to the vihuela. Likewise, if the techniques of the vihuela were used on a modern guitar, it would not make the right sound either.
What are you currently working on?
I've been to Holland and Canada for some programs involving other baroque instruments and I will be going to Portugal too. Among the most recent projects I've done was one involving German music. I recorded [David] Kellner, [Johann Gottfried] Conradi and Bach, 'De Occulta Philosophia'.
Recordings by J.M. Moreno are available at www.glossamusic.com.
Simona Fodor