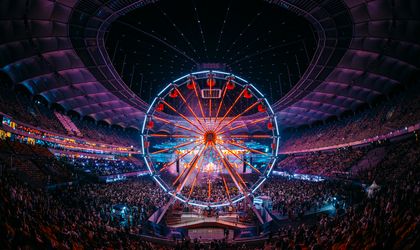 SAGA Festival grows larger and in 2023 it brings more musical genres, more stages and even more hours of fun. The third edition is starting to take shape and will take things to a whole new level, both in terms of concept and production, as well as the line-up and activities over the three days of the festival. Some of the biggest live acts in the world will be seen at SAGA: international artists with millions of fans are expected by the Romanian public to liven up the dance floor. Live acts will fuse with electronic music and explosive sets presented by the most loved DJs globally.
And the surprises don't end here: new stages will come to life, and the already loved ones will have an innovative new design. Festival goers will be thrilled to discover the many new surprising and diverse activities waiting for them in the festival.
Updates regarding the third edition of SAGA will be announced soon.
Because the opinion of the fans is the most important one, SAGA is launching a contest for those who would like to be part of the team. Until October 25, on the Instagram and Facebook accounts of the festival, there will be a series of challenges. In the end, the winner will receive a festival crew badge which gives him/her the chance to have access to the event premises during the load-in, will get to see the stages being constructed and assist all other key moments. More details, here.
The second edition, which took place on 3-5 June 2022 at the National Arena in Bucharest, completely transformed the venue into a space of creativity and energy, with over 150,000 people who explored and discovered its secrets during the three-day festival. People from 85 countries attended SAGA 2022 and had fun with their favourite artists and the audience from our country.
"Thank you to all the participants who joined us at SAGA Festival 2022, I was sincerely overwhelmed by their large number. This motivated us even more to bring another great edition in 2023." Said Allan Hardenberg – CEO ALDA.