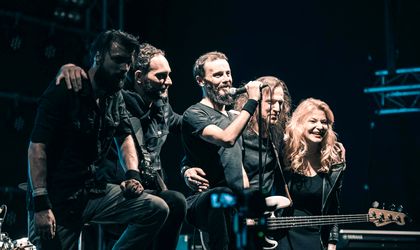 The Romanian doom metal rock band Olympus Mons succeeded in impressing the judges and won The Big Award of Posada Rock contest 2020, held at Quantic, in Bucharest. Moreover, they were awarded the Special Prize offered by Psychosounds Music. BR is happy to be able to congratulate our former colleague Eugenia Antonia Pupeza who plays the keyboards in the band.
28 bands entered the contest, 10 of which were selected to play live on Friday and Saturday. First place went to Drive Your Life, second place to Katara and the third place to Valak. The winners of the "Zaharia Radulica" special award were Creepy Willie.
Olympus Mons – OM – was born in in 2018 with founding members Victor Frunza (vocals), Cristi Lincu (lead and rhythm guitar), Alex Toderasc (bass guitar), Cristi Filipescu (drums) and Eugenia Antonia Pupeza (keyboards). Proof of the great musical chemistry between the band members, in just a few months they succeeded in already writing 7 songs. Olympus Mons launched its first video in December 2019, for the song "The Heavens Below", followed in February 2020 by "Darkness Takes Over". The band brings a fresh sound on the Romanian doom metal industry scene, with songs that speak deeply about the artists' life experiences and feelings and wishing to have a strong emotionally impact on their public.
During the lockdown and the period that followed, OM wrote two new songs, one of which (Dark Mantra) was presented partially to the fans on the official YouTube channel, as well as on other social media outlets. Crimson Dreams was presented live for the first time to the public at the Posada Rock concert.
Posada Rock represents the most important and longstanding contest for rock bands in Romania, being a stepping stone for many young bands. Even if the COVID-19 pandemic prevented the organizers for having the festival, they still decided to keep the competition and organize an edition in "exile", in Bucharest, on the Quantic terrace, on 18-20 September 2020. Every evening was closed by a great performance, as follows: on Friday – Awake, on Saturday – Breathelast and on Sunday – Lucifer A Rock Opera.
Posada Rock 2020 was organized by the Rock Culture Association, a prime project for the Ministry of Culture.