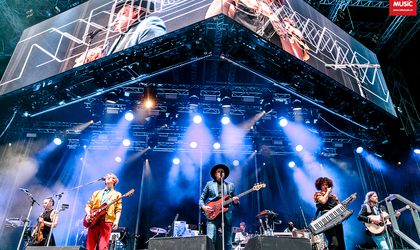 On a warm but breezy Wednesday, Canadian-American indie rock darlings Arcade Fire, recently described in a piece by The Guardian as the "daring comedy troupe of rock music," took to the stage at Bucharest's Romexpo complex in the second day of Rock the City festival. The performance seamlessly alternated moments when the fired up audience danced and sung to the tunes with very intimate ones when the band of nine became a single familiar and captivating voice that drew everyone in by singing deeply personal lyrics.  
They say anticipation is half the fun and that goes for concerts too. In Bucharest, in particular, that gains an extra layer: it's always intriguing to look around and wonder… who will turn up for a particular concert? As a lonely YouTube listener, understandably, it's pretty hard to assess how many fans your favourite artist has around. And it's one thing to chance upon an Algiers concert in Control and feel like the band's energy could have fed much more souls than those present, another to flock to a sold-out Warhaus gig at the same venue and wonder … 'how come?' and a totally different thing for virtually everyone present to know they're among the lucky ones to attend the nearly religious experience a Nick Cave concert can be. But … Arcade Fire? Who will show up?
Admittedly, the riddle is not so difficult in this case, as the concert was part of one of Bucharest's few music festivals and the city's summers are still suffering from musical drought. So figuring out the numbers was not really at stake, as a crowd was very likely to turn up. That's why, the real question here was: how many fans does this quirky rock band have in Bucharest? In all honesty, many of those present yesterday asked themselves precisely that. And the answer, judging by the echoes, one day later, is: it has many more today than it had yesterday.
After kicking off with 'Everything Now' the band settled into the show, not before giving credit where it's due and saluting the presence of Nick Cave, 'one of our idols' on stage, the previous day. Then, in what looked at times more like a carefully choreographed theatre play than a rock concert, for the next two hours, every one of the band members took their place and performed, almost in rotation, on either a guitar, drums, a bass guitar, a piano, a violin, a viola, a cello, a double bass, a xylophone, a glockenspiel, on the keyboard, the synthesiser, the French horn, the accordion, and, during the enthralling 'We don't deserve love,' on a bunch of bottles filled to different degrees that looked as if they'd been brought in from the nearest bar.

While performance was built around tracks from their fifth album, Everything Now, released almost one year ago, the band led by Wim Butler took the crowd through hits such as 'Afterlife,' and 'Reflektor to 'which responded by dancing, humming, singing, clapping and waving phones. And while apparently elsewhere many say the band has something to prove, when it comes to their latest studio album, or some explaining to do, when it comes to the campaign surrounding the release, 'Everything Now', 'Electric Blue,' 'Signs of Life,' 'Creature Comfort,' and 'Put Your Money on Me,' were very well received. What can be more compelling in 2018 than a song urging you, on Abba-like tunes, to 'stop pretending you've got everything now'? Still, the wildest cheers were reserved for the instant when Butler told the crowd he had seen people out in the streets protesting, and called them "an inspiration to the rest of the world," before adding, between expletives, that, although there's "a lot of s**t to take care of" he hoped that one day "we can get these f*****g criminals out," pointing that the US has a problem of their own.
While the jab clearly endeared them to the audience, it may have surprised some. Still, those familiar with the band's activism were hardly so. Arcade Fire have been a longtime outspoken supporter of the cause of the Haitian people, the home country of one of the band's founding members, Regine Chassagne. Plus, the band has a long history of involvement in social causes, for which it constantly donates its proceeds.
Also, in the same vein as their other gigs on the Infinite Tour, the performance saw Butler and Chassagne leave the stage and get closer to the audience.  First, as 'Reflektor' began the latter walked through the crowd and later stood up on an elevated mini stage set a few good meters from the main stage, clad in a shiny suit that sparkled as she danced hypnotically under the lights. "We're trying to connect, trying to get people in the back to engage," Butler told the Guardian in that March interview. "There's a certain power in the rock star: they're bigger than life and you can't touch them. Being in the audience breaks that wall," he added.
That being said, when he took on the mini stage, crowd silent listening to him sing in what felt very much like a public karaoke session the heavy lyrics to 'We don't deserve love,' he still looked pretty much like the 'bigger than life rockstar' he's trying not to be. Same as the evening before, when, two heads taller than everyone at the packed terrace of Control, his distinctive oversized felt hat standing out, he tried to mingle and pass unnoticed. Against that background, the intimacy he managed to create in the encore while singing arguably the best track on their latest album, summed up pretty much the essence of the performance.
Say it was upbeat and has made you forget your worries by transporting you to a unique, playful universe, and you'll be right. Argue that it was soulful, heartfelt and has made you give a new take to their lyrics, –  which all of a sudden, seemed much more profound and dark compared to the happy tunes they play to – and you'll win.

Going back to the initial musings, another question to test your fandom après show is 'Would I have travelled to see this band'? Because as things go, if you love them you'll go see them. Now, as far as I am concerned, this concert has 'saved' me and a friend a trip to London. As for Bucharest, it's always a good thing when one of the world's best known rock bands includes the city in its world tour. Perhaps, over time, the local music-thirsty public will meet more often the bands it deserves.
Photos © Ionuț Paraschiv / InfoMusic.ro