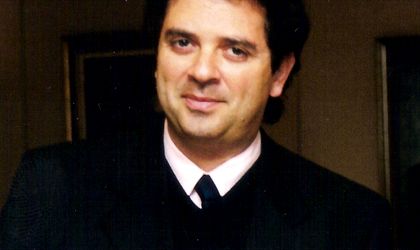 Pianist Dario Ntaca sees the instrument he plays as an extension of his body and as always vocally inspired. The Argentine says art has a lot to do with commitment, which is one of the keys to a successful musical career, and a way to counteract the sometimes superficial approach of contemporary society. Ntaca was in Bucharest in October to give a piano recital as well as a master class at the Bucharest Conservatory.
How did you start playing the piano? How much did it have to do with your family's musical background?
My father was a teacher at Teatro Colón, which is like the Romanian Athenaeum but it's an opera house, a very famous theater around the world. So since I was a child I was always around musicians and singers. Although I don't sing, I think the influence that Teatro Colón had on my life was very important because yesterday [e.n. the day of the concert Ntaca gave in Bucharest] one person came to the dressing room and told me that my piano sings a lot. That is always a very nice compliment for me to hear because my main goal in music, and also when I teach, is to help people understand that an instrument is an extension of your voice the same way a fork is an extension of your hand and any utensils we use in life are an extension of our bodies. I have always felt that the instrument is an extension of the voice. Whatever instrument a musician would play, a violin, piano or flute, there is always something that is vocal, that is vocally inspired. So I consider my childhood background extremely important in how I approach the piano.
 Was playing the piano always what you wanted to do?
Yes. I also wanted to conduct but I knew I had to wait, and when I teach a conducting seminar I always advise young conductors to deepen their relationship with an instrument, whatever their instrument is, before they become conductors. Because piano has always been my reality and my life, conducting is also an extension – speaking of extensions – of my piano. My goal is to play the piano always, even if I'm active as a conductor.
Can you identify the landmark moment in your career?
I think performing Rachmaninoff's third piano concerto in the city where he premiered it, as it had been my dream for three years since I had set foot in New York.
I moved to New York when I was 19 and I said this is the city where [Sergei] Rachmaninoff premiered his third piano concerto. They commissioned him to write a piano concerto to be premiered in New York and it was under the direction of [Gustav] Mahler; it was an amazing night in 1910. And the very first moment I set foot in New York I was so aware of that concerto, it kept coming into my mind all the time. So I entered a competition with that concerto, and I won. I was 22. I think that was a sign that things were going well.
Would you say you have ever had to sacrifice anything for your music?
Well, your concept is correct although I always remove the word sacrifice. We can work on that concept and I always tell my students this. It may be true, I'm not arguing against the word; I'm just saying that sometimes it's probably better to disguise it, and not to see so vividly that you're sacrificing something. So I refer to it as maybe postponing something until after a concert. You may postpone conversations with friends; they call you on the phone and you say "I'm busy". For some people it is a sacrifice. I would like to use the concept of postponing because you end up doing it somehow at a different time. And yes, it involves choice.
What are your concert or recording plans for the Sinfonietta Argerich?
We have done a lot in the past. Sinfonietta Argerich, based in Argentina, did not tour abroad with Martha. It was an orchestra created to perform throughout Argentina, in provinces where there's no orchestra and where Martha wanted to play. Martha hasn't been too active in Argentina in the last year. So we don't have specific plans.
Can you single out one biggest threat to classical music today?
Everything is under threat. Everything that is intense requires passion and what I call "Renaissance commitment". Renaissance commitment is a way of living: simply to not conceive of your life without art, without sacrifice if you want. And the threat is – if we want to use the word sacrifice, or choice – the threat is that not only is the yoghurt light, everything is light. If it is only the yoghurt, that is fine, but people want everything to be light. When human beings have a tendency to become light in everything, to me that is the only threat. And of course classical music cannot be light because it is very hard to perform, it requires practice, certain organizational capacities – I'm already talking here about orchestras – and the threat lies in the lack of commitment.
I don't think it is irreversible; I think it is possible with some kind of new Enlightenment. There have been many Enlightenment periods in history and it certainly doesn't look like that because we have a lot of information and the internet. It looks like a very exciting time in human history but I don't think it is. I think we're going through a bit of an apocalyptical time, but, as I said, nothing is irreversible so it may change with some enlightenment and an understanding of what our lives have become.
All the youth do all day is chat. They're all together having coffee but they're chatting to different people at the same time so they are not talking to each other. And that has to do with art, because it has to do with commitment. If you don't commit to people, you won't commit to art. If you don't commit to normal communication, you won't commit to a more profound communication. So it is a problem, but there is a solution.
What advice do you have for a young musician starting out now?
First of all they have to know that musicians have always been people who are a little strange in society. Today they're even stranger. So, we have to face the fact of long hours of practice and a certain tendency towards isolation, which no teenager wants, but it is required for the excellence that we pursue. They must understand that they have to live a different life. There's no way you can live what they call a regular life. Some people drop out; I dropped out of school and I was homeschooled during my teenage years to have enough hours at the piano. If a person has to go to school all day and has a lot of homework when they come back from school, there's no way they can play the piano. So they either have to go to a special school that allows a lot of time for practicing, or they have to be homeschooled. There's a tendency today in the world, and especially in well positioned families, to send children to school from 9 to 5 and then they have homework to do until 9pm, so you wonder, when are they going to practice?
To summarize, I think there's a sense of commitment that translates into power of devotion and if you begin very early, you have to make a decision. It's not only the individual – by the time the person interested in music has the power to make a decision it is probably too late. So the advice is first to the parents, if they're going to support a talented child. First you have to try to figure out if your child is very talented, to push him or her gently away from distractions so that at 13,14,15, he or she understands the difference between commitment and distraction, and tries to avoid distraction and focus on practice. To play a certain instrument requires a certain muscular development and this has to happen while you're still developing. If you make up your mind at 18 or 19 it is probably too late. If the relationship between your muscles and the nervous system related to the hands, or different limbs, is not correctly developed before a certain age, it is probably too late. So early commitment is necessary, otherwise nothing can happen.
CV Dario Ntaca
2004 Founder of the Sinfonietta Argerich in Argentina, of which he has served as music director since its creation
Ntaca has appeared as pianist and conductor with the Sinfonietta de Paris; Moravian Philharmonic in the Czech Republic; and in Bulgaria with the Burgas Symphony Orchestra, Russe Philharmonic, Varna Philharmonic and Plovdiv Philharmonic Orchestras. He also toured Spain in 1994 with the Oxford Chamber Orchestra.
1990-1996 music director of the San Luis Orchestra in Argentina
He has performed solo recitals in major international centers such as Paris, Los Angeles, Tokyo, Buenos Aires and New York. He studied under the guidance of his father, Alejandro Ntaca, one of South America's leading piano pedagogues. He also studied orchestral conducting at Juilliard School with Vincent La Selva and he is a graduate of the State University of New York where he studied under Germán Diez.
Ntaca received the 1983 Concert Award from the State University of New York for his performance of Rachmaninoff's 3rd Piano Concerto. In 1985 he was awarded the silver medal at the Mozart International Competition in Colorado.
Simona Fodor