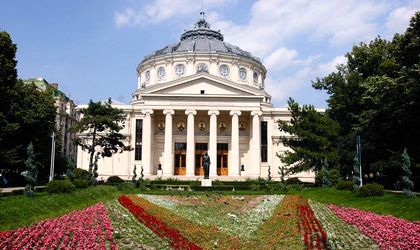 The seventh edition of Bucharest Music Film Festival starts June 8, in the capital's George Enescu Square, with a concert of Bucharest Simfonia Orchestra. The orchestra is conducted by Florin Totan. This concert will be followed by a projection of Vienna New Year's Concert 2012 conducted by  Franz Welser-Möst. The concert starts at 17.30.
The Bucharest Music Film Festival is an event for classical music lovers combined with dance sessions and projections of music concerts from all over the world. Bucharest Chamber Orchestra, National Radio Orchestra, Artmusik Quartet, Bucharest Brass Orchestra, Angely's Orchestra and many others are going on stage to offer the public moments of live classical music.
The festival is held between June 8-17 and consists of live shows, film projections, and dance classes offered by the Wilmark Dance Academy, everything for free.
For the last day of the event, the organizers are preparing an Animal's Carnival – Camille Saint-Saëns show, where actor Silviu Biris will be the storyteller. Imperioso Cvartet, Toma Popovici (piano), Raluca Ouatu (piano), Matei Ioachimescu (flute), Adrian Duminica (clarinet), Alexandru Anastasiu (percussion), Razvan Popescu (contrabass) will be performing.
The Bucharest Music Film Festival program is from 11.00 to 23.00. More information about the event here.
Oana Vasiliu