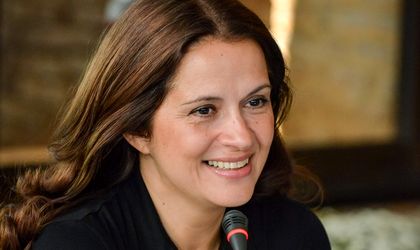 When you arrange an interview with Laura Coroianu, manager of Emagic and Awake Festival, you know to expect valuable insights into the Romanian music and entertainment business. For the past 14 years, Emagic has organized the first major international mainstream festival to take place in Romania, B'Estfest, alongside stadium concerts in Bucharest, Cluj and Timisoara (Depeche Mode, Red Hot Chilli Peppers, Madonna, Roger Waters / The Wall, Shakira etc.), bringing to Romania over 600 artists from all the continents. In 2017 Coroianu and Emagic started a new project, Awake Festival, aimed at all the creative communities in Romania, held at a beautiful baroque castle in Transylvania.
Emagic started in 2006, since when you have brought to Romania some of the greatest artists of our time. What's the biggest challenge in organizing a superstar's concert?
Organizing a big concert requires quite a lot of… organizing! Usually we make a deal with the artist around 12-18 months ahead of the concert date and then we start the pre-production process. In the 14 years that Emagic has pioneered and continued to innovate the live music industry, we have introduced international standards of production, schooled an entire generation of event producers with the help of specialists from Holland and the UK, implemented the token system for food & beverages (now known as RFID), and brought the first festival "activations". Everything was a challenge for a while but at this point the main challenge our industry faces is the lack of proper venues of different capacities, from 1,000 to 20,000 – and not only in Bucharest but countrywide.
National statistics show that Romanians spend very little on culture. With so many festivals nationwide, are music lovers an exception?
I don't know which algorithm the national statistics use, but according to the main ticketing companies in Romania in the past 12 months alone a record 1.5 million tickets have been sold for live music events, from small clubs to stadiums and festivals. Speaking of festivals –  this year alone over 70 music festivals have been announced in Romania. Overall ticket sales have increased by an average of almost 30 percent from the previous year. I think our industry is on the up at the moment.
Is there a recipe for success in the business of organizing music?
Be professional and always respect your public; the ticket buyer is your customer, and has to leave your event happy with how you took care of them. It's not only the artist who should have a happy and smooth experience – always think about your public.
With a few exceptions, every major city in Romania has its own festival. Is organizing festivals the new entrepreneurship chapter locally?
Festivals can become an important economic force for the local economy and more and more cities now realize this and encourage entrepreneurs to organize such events. Awake Festival, which we organize outside Targu Mures on the grounds of the fabulous Teleki Domain in the village of Gornesti, has energized the local cultural scene and has generated an impressive amount of cultural tourism. It was already shortlisted for "Best European Medium Festival" at this year's prestigious European Festival awards in Holland and only last week was selected by The Guardian as one of the 20 best boutique festivals in Europe. You can imagine how many foreign tourists this type of recognition will add to the festival and Mures County and how much money will be brought to the local economy. But it's not only festivals that can be super beneficial for the local economy, but big concerts, too – for Metallica this summer 48 percent of the audience will come from cities other than Bucharest, with 15 percent coming from abroad. That theoretically means up to 25,000 hotel rooms or other types of accommodation plus what these tourists will spend on restaurants and shopping.
Has Romania become a point of interest for global music superstars?
Ever since 2006 when we did the first Depeche Mode concert at the old national stadium, international artists have discovered and included Romania on their maps of world tours. Madonna, Roger Waters/The Wall, Sting, Red Hot Chilli Peppers, Lady Gaga, Shakira – none of these concerts would have happened if we had not first broken the ice with that amazing sold-out Depeche Mode concert in 2006. Before that such artists considered Romania part of a grey zone, the "wild wild east" as we used to call it. The "wild" element still lingers in the fact that 30 years later we still don't have proper highways to smoothly bring the hundreds of trucks of equipment necessary for a big concert or festival. But we remain hopeful.
From your point of view and taking into consideration the amount of music festivals and live concerts happening locally, is this type of entertainment affordable or is this the reason why you offer early bird tickets and announce events generally a year in advance?
We offer early bird tickets only for festivals – for the really big concerts this is just not done. I really don't understand organizers who offer discounts on tickets to the big shows – the artists never agree to this. As for early bird – this is a way of rewarding your most loyal fans, who will buy a ticket almost immediately after the previous festival has ended. Since most festival goers are very young you want to give them several options to afford a ticket to your festival.
Live music production is very expensive. For the events that Emagic organizes, what share is covered by sponsors and how much by ticket sales?
It really depends from event to event – there are big concerts that we do with no sponsorship but where the tickets are quite pricey, like Metallica, or with some sponsorship worth 10-20 percent of the production budget. One thing we learned from our wonderful but eventually sad B'Estfest experience is that when a festival has more than 50 percent of its budget based on sponsorship you are on very shaky ground – a crisis like the one in 2009-2012 can collapse all sponsorship budgets and then you end up with an event you cannot sustain at a certain level. That is why we started this innovative new format – Awake, a boutique festival of music, arts and ideas where the plan is that in the next three to five years sponsorship becomes a bonus and not a raison d'etre. Never again do we want to go through what we went through with B'Estfest when the last crisis hit.
You organize both festivals and live concert tours. Which do you prefer, as an organizer and as an attendee?
I think organizing festivals is more creative, albeit a more arduous and long process, but I do like the energy of a big stadium! I like them both, but I probably like being at Awake the most, because it is a "chill & thrill" type of event, where you both get the adrenaline rush and still find moments to enjoy, dream and relax – and even learn something!