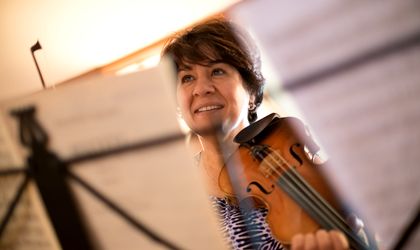 It was 1970 when a Romanian artist, violinist Mihaela Martin, conquered two of the most important international music contests, the Tchaikovsky Competition in Moscow, Russia, and later on, the Indianapolis Violin Contest, US. Romanian-born Mihaela Martin had achieved the reputation of being one of the most outstanding violin virtuosos of her generation. She began to study violin with her father at the age of five, and later went to study with Stefan Gheorghiu, a pupil of George Enescu and David Oistrakh.
"Miss Martin combines the technical perfection our musical Zeitgeist demands with a distinct artistic personality in the grand tradition," noted New York Times back in 1983, after her debut at Carnegie Hall. And this distinct artistic personality still stands, as BR was invited to SONORO festival to meet and interview Mihaela Martin, and noticed her magic during the rehearsals.
By Oana Vasiliu
What's your first memory regarding the violin?
I can't tell for sure, but I suppose that the sound of violin I know with from a very early age, due to the fact that my father was a violinist and he was rehearsing at home.
In one interview, you said that "once you have a good instrument it is much easier to make all your ideas and intentions really sound". What's the story of your current violin, the Guadagnini violin from 1748?
When I first discovered the violin, nobody had played it for 150 years. It belonged to a family who were not musicians.  Poetically speaking, the violin was asleep. When I went to try it, something dragged me, its timbre, its wood vibrations. And then I decided to try to see if it can be awakened. And because I had to work so much with it to bring back its vitality and the way it rewarded me then for my persistence and tenacity makes me love it even more. And I play on it for 21 years now.
How about the previous violins you played on?
When I was a student in Romania, I didn't have a very good violin, but when it was decided that I will represent the country on an international competition, maestro Stefan Gheorghiu, who had two violins, one on which he was playing, gave the other one to me. But compared to other violins which were played during these international competitions, mine wasn't so great. But I found it fantastic. Also, in my opinion, although you don't have a great instrument, you do have as an artist your personal input to that music and this is how you impress the audience with your own colours brought there by your own imagination of the music you play. A good instrument without the artist's imagination can't be taken at face value.
You play, teach and you are also part of the jury for some international competitions. Which "job" do you prefer the most?
I believe that when you accept to be active in more branches of the same profession, you can identify yourself with each and every job when you are actively doing it. What I would like to underline is that if I were only a teacher, I couldn't hold up. The same applies for judging and traveling for one competition to another instead of teaching and playing. What I can do independently is to play the violin. This is what I know to do best and this is why I'm currently teaching and judging. Somehow, I truly believe that between this three jobs of mine is a symbiotic connection.
How did you become a teacher? Did you decide this professional path?
Being a violin teacher isn't something you decide on. In my case, someone made me the proposal and I knew that I have certain skills for this particular job. I also believe that when you become a master of an instrument after many years of playing it, you should pay it forward by teaching others, giving them both the theoretical part and your own clues on solving the music's mysteries.
Due to the fact that you are both a teacher, a jury member and an artist, do you believe that in mastering the violin the saying that "perfection is one percent inspiration and ninety nine percent perspiration" can be applied?
(Laughters) I won't be so explicit with these proportions. What can I say is that there is a lot of work for studying and playing an instrument. You are starting this path on a very early age, five-six years old, when you don't know what do you want to achieve in your life. You also have to be lucky enough to have a supportive family. But when you sum up the years you invested in training, maybe you can reach the proportion mentioned in the question.
You are also familiar with Enescu's compositions. How often it is performed Enescu in a chamber music competition or festival?
For me, this is the first time when I'm playing Enescu in a chamber music octet. But I know for a fact that in other octets this particular play is commonly scheduled.
We are having this conversation in one of the most beautiful concerts hall from Romania and according to some critics, the Romanian Athenaeum can be placed in top 10 concert halls in Europe. How is the concert hall which you enjoy playing the most?
I believe that Wigmore Hall from London, UK, is the place where the atmosphere, the acoustics, the public, everything turned out to be perfect.
But do you think that the classical music can have the same impact regardless the concert hall and the acoustics arrangements?
It depends on the public from the audience. When you have an audience who is there with you, very focused on your work and you have an artist that truly offers his best performance, then something magical happens based on the communication between the artist and the public. For that reason, it doesn't really matter the setup of the concert. I believe that the secret ingredient is the capacity of your concentration as an artist and how do you transmit your feelings to the audience.
Are there differences between the Romanian public and the ones from other countries?
Romania is my home, so for me, the public is always warm and pays great attention to my performances. But this depends from country to country, from culture to culture. Another important fact is the program of the performance: if there is something well-known, then the public will be enthusiastic for listening that specific play. Sometimes it happens to be in the program a contemporary play, so the public which is not so familiar with it, can be more difficult to be captivated by the sounds.
Editor's note: I knew Mihaela Martin from Enescu Festival and I was kind of familiar with her playing the violin. Later on, when the proposal for the interview came, I was truly happy to have a short talk with the one who was considered our Nadia Comaneci for violin, the one who received international recognition on an early age, winning some of the most prestigious violin competitions and promoting Romania as a country of wonder-kids who can achieve the highest international standards. When she left Romania in 1986, the situation in the country wasn't great and her career would have suffered if she didn't decide to departure. In a previous interview, she talked about how sensitive her neighbours were and how she had to rehearse in the kitchen, being cold, as well as how great was on that time the Romanian music school. This interview was made courtesy of SONORO Festival and BMW Romania, the festival's partner for seven years now. 
Photos courtesy of Serban Mestecaneanu