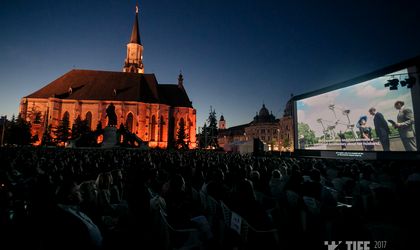 At the grand opening of the 16th edition of TIFF, Cluj Napoca's Unirii Square hosted over 3,200 attendees for King of the Belgians, with the biggest screen of the entire festival's history, a giant of 23×14 m. For this edition, over 1,300 guests will arrive, which is another record for the well-known film festival.
"TIFF is a place for everyone", underlined the artistic director of the festival, Mihai Chirilov. And we could not agree more.
What's on TIFF
Also, the competition of the 16th edition of the TIFF features directors on their first or second film and this year maps a veritable conflict zone: stories on the edge of a knife inspired by real events or personal experiences, challenging situations and daring approaches, moral fables that are either extreme or nuanced beyond clarity, all taken on by emerging directors taking the kinds of risks that will surely bring them recognition. Of the 12 titles competing for the Transilvania Trophy, 8 are feature debuts.
If you can't come to Cluj Napoca to attend TIFF, don't worry. Some of the movies are screened in Bucharest at Afi Palace.
Read also: Interview. Tudor Giurgiu: What to expect from TIFF 2017?
This year's Romanian Days section (June 8-10) presents 27 titles— 13 features and 14 shorts — selected out of over 120 submissions. Five of this year's features are world premieres. And, like every year, Transilvania IFF's Romanian Days will bring together hundreds of industry figures from Romania and around the world.
The enigmatic rebel of French cinema, a European film icon, and one of the world's most beloved actors, the legendary Alain Delon comes to Romania for the first time as a special guest of the 16th edition of the TIFF. The French star, who is often cited as one of the most beautiful men of all time, conquered the hearts and minds of the audiences during the golden age of European cinema. TIFF will award Alain Delon the Lifetime Achievement Award for exceptional artistic contribution. In his honor, on June 9, the Unirii Square will host a special screening of  Pour la peau d'un flic / For a Cop's Hide (1981), a thriller directed by the great French actor and which also features Delon in the starring role.
Business Review will report daily from TIFF 2017.