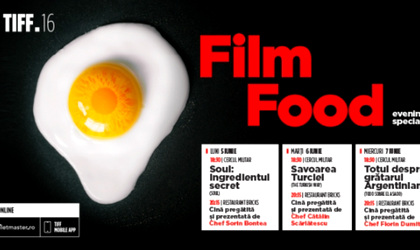 Starting last year, TIFF has launched a new section of the festival, FOOD FILMS. For those passionate about food and the culinary art, these documentaries wisely selected are pure joy. For this edition, I talked with Teodora Agafitei, brand manager Staropramen, one of the sponsors of the event, to find out about the secrets ingredients of this special section.
This is the second year we have FILM FOOD section at TIFF. Which were the reactions of last year? What do you expect this year?
After the first edition of FILM FOOD section at TIFF we received enthusiastic reactions from people that attended it. We are supporting this section for the second year due to a great selection of gastronomic cinematography and a mix of ingredients that highlight a tasteful experience: after each movie, a great Romanian chef is recreating the main dish, the star of the film. This way, people are experimenting both cinema and culinary art.
As one of the main sponsors of TIFF, what does it mean for you to take a bite of this festival?
The pairing between Staropramen and TIFF offers a distinctive taste. This because each experience that people create during the festival is enhanced by the taste of the beer. Each moment we share or keep in their memory builds the genuine atmosphere of TIFF. Either we are talking about enjoying a Staropramen during your favorite movie in the open air area, or pairing the beer with great food in one of Cluj-Napoca's delightful places, or combining them in FILM FOOD section, we simply cannot see ourselves without these special collection of experiences.
Who did the selection of the films from this section?
The movies were selected by the festival's team, and this year's screenings really captures the essence of cooking in different culinary cultures. The fact that we can try the main dishes that we saw being talked about in the movie, see them being made by famous Romanian chefs, helps us create that special moments we love to remember.
Are we also talking about getting a taste of what we see on screen as part of the TIFF experience?
As part of the FILM FOOD section, each of the movies provides an experience that continues beyond the screen, with the help of three Romanian chefs. Each of them are recreating the dishes people saw in the movies, pairing them with Staropramen, to highlight the taste and to enhance the cooking experience. Either we are talking about Spanish, Japanese, Turkish or Argentinian cuisines, all have their place in people's experience collections.
The movies screened at TIFF are Soul, The Turkish Way and Todo sobre el asado.