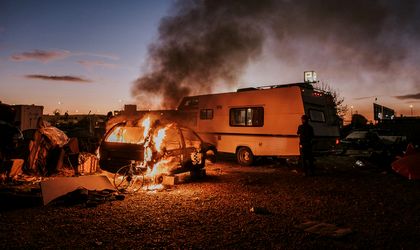 TIFF.18 opens with one of the most anticipated Romanian premieres of the year, the newest movie directed by Tudor Giurgiu, Parking.  Inspired by Marin-Malaicu Hondrari's bestseller "Apropierea",  Parking is the first Romanian film almost entirely produced abroad (in Spain). The cast features well-known international actors such as Belén Cuesta, Ariadna Gil, Luis Bermejo, Eric Frances and Romanian actors – Mihai Smarandache in leading role, Carmen Florescu, Cristi Iacob, Ioan Coman, Emilian Oprea, Paul Cimpoieru.
By Oana Vasiliu
Also read: 200 titles around the world at TIFF 2019
The movie tells the tale of Adrian (Mihai Smarandache), a poet who immigrates illegally to Spain in 2002 and finds employment as a night guard at a car dealership managed by Rafael. Adrian's life is forever changed when he meets Maria, a guitar player in a jazz band. His journey in search of great love will turn into a surprising, sensitive and challenging story that the Romanian audience will watch for the first time at TIFF, in the presence of the team, on the giant screen in Unirii Square Open Air.
Trailer: https://www.youtube.com/watch?v=-flBcCiroBI&feature=youtu.be
Also read: TIFF comes of age: Iconic film festival turns 18
The Transylvania International Film Festival (TIFF) is the place where new box office records are made, sold-out opening and closing screenings are the talk of the town and eclectic film-based events are the places to be. Haven't checked in yet? Maybe now is the time, if your schedule is clear between May 31 and June 9.