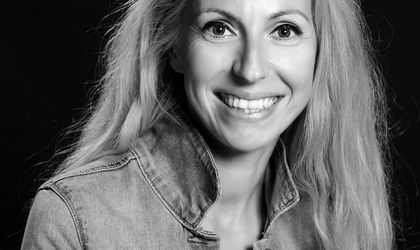 Much has been said and written about the Anonimul Film Festival, but nothing compares to the experience of actually being there, right in the heart of one of Europe's great wildernesses, the Danube Delta. Business Review talked to Miruna Berescu, executive director of the festival, about the wonders of such a special and surprising event, which is gaining more attention year after year.
What does Anonimul Film Festival represent for you after so many years as director?
I always say Anonimul is my first child, as my daughter is only 11 years old. It is still the most important and significant project I am part of, because I guess a 15-year relationship is quite a long one.
Do you consider the distance to this festival an advantage or a disadvantage?
In the first few years of Anonimul, the most frequently asked question was: why is this festival at the end of the world? And of course, at first and theoretically speaking, they were right to ask such a question. We had little to answer to that at the beginning. But the years passed by and the question was less and less heard. So, I guess something changed in the approach of the people that started visiting us, regardless of our being at the end of the world. It is certainly much more than a film festival we are talking about: the wonderful place, the closeness of the sea, the wild and amazing delta, the light that surrounds us there, the people, the atmosphere, the films – a little bit of everything.
How do you convince international film stars – and especially directors – to come to Anonimul? Who was the first to accept your invitation?
This could turn into a long conversation! The first big director to accept our invitation was Peter Greenaway for the second edition, and I think he mainly did so because Marcel Iures was starring in Tulse Luper Suitcases 2 and he probably felt like he could guarantee that it would be safe and interesting to go to. At least, this is why I think he accepted, as he was charming enough to tell us, actually to tell me in an interview, he came mainly because we invited him. Or maybe this could be a British thing, since two years later, in 2007, Ken Loach answered the same! Now it is so much easier to invite people, and I am not only talking about big names of world cinema, but also film directors, producers and actors who are invited as representatives of their films that are part of our lineup.
Can you name one reaction you most liked or disliked from an international star regarding Anonimul?
One reaction that I certainly think about quite often is related to one of my favorite films ever screened at Anonimul – Alps, which Greek director Yorgos Lanthimos directed before The Lobster. Just after the screening of this wonderful yet provocative film, half of the audience were on their feet clapping like never before while the other half booed – a perfect example of how important it is for me, at least, to get reactions, to get involvement and excitement instead of a little faint applause.
How has the audience evolved over the years?
This is another interesting question – for which I thank you – as we think about that quite often. I think the evolution in numbers is important as well, but the relevant change has to do less with figures and more with quality. We can say now, happily, that we have one of the most interesting audiences – not only cinema lovers, but also educated, open-minded, natural, curious people. It is such a pleasure to see them coming into the cinemas, to watch them asking questions and taking advantage of the presence of the filmmakers we invite before them, to see them sitting in front of the open-air screen even when it is windy, or cold, or raining as they don't want to miss the films. We love spending as much time as we can among them; we have started to personally know a few or to recognize faces from the audience, as they come every year.
What special guests will you have this year?
Our special guest is a director that we discovered at Anonimul, just to be able to follow his career afterwards – the Kazakh director Emir Baigazin, who won a Silver Bear for Best Camera at the Berlinale, back in 2013, for his debut, the amazing film Harmony Lessons. Our selector, Ludmila Cvikova, included Harmony Lessons in our competition and we knew we had discovered a great director. With his second film, Wounded Angel, Baigazin returned to Berlinale in 2016 and he has established himself as one of the most promising directors of our times.
For those who have never been to Anonimul, why should they come?
There is a reason why people are always coming back to the delta, when the festival unfolds, and they should discover the reason by themselves.