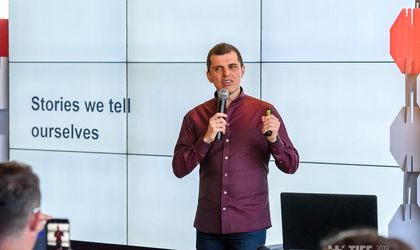 For the second year in a row, Transylvania International Film Festival (TIFF) offers participants infiniTIFF, an experience hub dedicated to showcasing new and innovative forms of audiovisual storytelling. It is designed to inspire the audience to explore interdisciplinary collaboration and rethink the future of film production, distribution, and experience. BR spoke to Ricardo J. Méndez, Samsung NEXT's technical director for Europe, about pushing the boundaries of contemporary storytelling as we know it.
By Oana Vasiliu
So many great stories in the world start with "once upon a time". Has this changed now we actually tell our own stories using new technologies?
A filmmaker once said that every story requires a beginning, a middle and an end, but not necessarily in that order. So sometimes you need to start with "once upon a time" and sometimes you start with your middle as close to the action as possible and you go back to the story, and I think that with technology we can do that sort of thing: we can stop at whatever point we want. Sometimes we give them a little bit of background; sometimes we move the story forward.
What's your definition of virtual reality?
My own definition would be something that constructs a completely new world into which you embed yourself as an individual. The trivial version of virtual reality (VR) just puts us as individuals into a new representation of the physical world, but I don't think it just needs to be that. We can use VR to introduce new concepts.
We are at a film festival. Do you think that VR will replace the traditional cinema at some point?
Replace, not necessarily, but I do think that it allows us to tell immersive stories. But it is not going to replace it in the same way that movies did not replace radio, and radio did not replace books.
Do you agree that VR today resembles the early days of cinema?
I would agree, but not in a literal sense. I would say it resembles the early days of cinema in the sense that we are still trying to make sense of the medium; we are trying to figure out what exactly this medium is capable of. So yes, it definitely resembles it, but obviously technologically it is entirely different. The things you can do with VR are impossible in any other medium.
Nowadays, using technology, can anyone be a storyteller?
Yes, actually, I would say that technology hasn't been a barrier for a while. We forget that a lot of things that we take for granted are technology and filmmaking is a technology, books are a technology, language itself is a technology, and language was the only main requirement that we had for storytelling. Yes, definitely, anyone can tell stories now. I think that technology is not about you anymore; it is just about how much use we make of it.
At this point, worldwide, can we talk about a shift from storytelling to story-living?
I would say that there is a lot more interaction with stories that go on social media. A lot of people tend to use it for certain reactions, whether these reactions are likes or reach. People are trying to narrate their own life in a way that it makes it easy to consume for those with whom they connect.
Some say that a good story is 1 percent inspiration and 99 percent perspiration. How do these percentages change when it comes to telling stories using technology?
I say it's exactly the same. I think that technology opens up a lot of potential but there is basically no substitute for sitting down and experimenting with it and having a goal in mind and seeing how well you can achieve that goal and adjusting your expectations. Inspiration is important, but also the more we experiment, the more we can discover things that we not have been inspired to experiment with until we engage with technology.