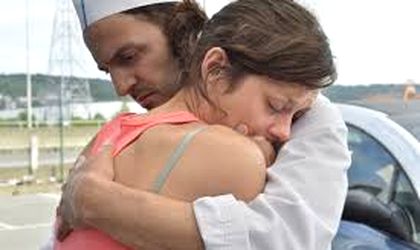 A phone rings; a woman lies on her bed, not answering it. Already, we know we're witnessing a crisis. And this absorbing drama, the latest from the Belgian Dardenne brothers, layers crisis upon crisis: financial, personal, emotional.
The woman is Sandra (an utterly convincing Marion Cotillard), a young wife and mother from an industrial town who works at the local solar panel factory. She has recently returned to her job after a nervous breakdown. With the factory having operated tolerably well in her absence, her bosses are now minded to downsize: Sandra will be made redundant. The money saved will fund a EUR 1,000 bonus for each of her 16 colleagues. If they vote to forgo it, Sandra can stay.
The premise is simple but gripping. Sandra must spend the weekend – the timeframe of the film title – going round her colleagues, persuading them to vote in her favor, thereby giving up their bonus. These are not rich people – her workmates are variously trying to support a family on one salary, working extra jobs to make ends meet, having marital difficulties and trying to build lives for themselves from scratch as immigrants.
It would be a daunting task for anyone, but for someone as emotionally fragile as Sandra it is horrible. The movie is a compelling depiction of the daily struggles of depression, as much as the plight of the blue-collar worker.
Cotillard – on screen almost the entire time – is outstanding in the main role, and could well find herself in possession of a second Oscar come February. Her understated performance makes Sandra's vulnerability, courage, determination, hope and compassion profoundly touching. We are with her, rooting for her, as she steels herself for one humiliating, high-stakes encounter after another. We lament the noes, and celebrate the yeses.
Like jury room drama Twelve Angry Men, with which it has been compared, the story is a character study: Sandra's predicament taps into the fears, values, preoccupations and dysfunction – into the very souls – of her co-workers, and their reactions to her appeals (which range from tears to violence) reveal something of their own psyches and tribulations.
While the trials of the working classes have long occupied the Dardennes, Two Days, One Night has real narrative thrust, without recourse to the easy drama of criminality. Sandra is flawed and ordinary, yet she is also heroic in her efforts to save her job. A supportive husband (Fabrizio Rongione) and one or two staunch allies from the factory make moving comment on solidarity and the value of a good friend.
The focus of the film is ostensibly small – one worker's factory job during a recession – but the themes are huge: empathy, rejection, victory, defeat, enmity, comradeship. All of humanity is here.
 Debbie Stowe
Directors: Luc Dardenne, Jean-Pierre Dardenne
Starring: Marion Cotillard, Fabrizio Rongione
On at: Hollywood Multiplex, Cinema City, Cotroceni, Cinemateca Union, NCRR, Studio