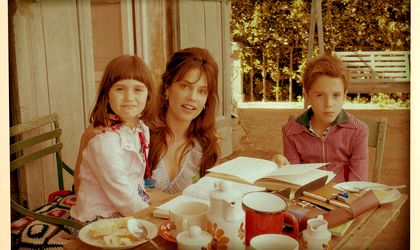 Italians. They do: family, flamboyance, fashion, food, gesticulating, shouting, drama. And they do all of that and more in The First Beautiful Thing (La Prima Cosa Bella), a very Italian family comedy-drama.
Sexy, shallow and vivacious, the film's heroine Anna was born to live la dolce vita. Unfortunately Anna is married with two young children, commitments to which, despite her best efforts, she is manifestly unsuited.
Debbie Stowe
We first meet Anna when she is the surprise winner of Livorno's "most beautiful mother" contest, 1971, where she is being drooled over by mustachioed sleaze balls, to the consternation of her hotheaded mustachioed husband. (I did say it was very Italian.)
This spectacle is the last straw in Anna and Mario's already volatile marriage, and he violently throws her out of the family home. The film then follows events of the next decade, as Anna's beauty and naivety lead her into various undesirable situations as she struggles to provide for her children.
Interspersed with those scenes is the present-day narrative, which sees Anna's poorly adjusted adult son, royally screwed up by his unsettled childhood, reluctantly return to Livorno to try and make peace with his mother before she succumbs to cancer.
It sounds soapy, and there are some rather melodramatic and corny scenes. But what raises it above tele-novella level is the film's huge heart, humanity and comedy. Not to mention some sur-genre acting.
The First Beautiful Thing is frequently funny, thanks in large part to a quality turn from its lead, Valerio Mastandrea. He is spot on as the dysfunctional, depressed and dope-smoking middle-aged college professor, weary and wary of his trying family. Despite the comic aspects of the role, he gives Bruno pathos and credibility. Anyone from an imperfect family (and is anyone not?) will sympathize.
Mastandrea's co-stars are Micaela Ramazzotti and Stefania Sandrelli, as the past and present versions of Anna. Investing her character with likeability, strength and maternal urges (if not the accompanying skills), Ramazzotti makes young Anna more than a ditzy bimbo, and shows her range as the wide-eyed young mother is gradually stripped of her illusions and innocence.
Her performance segues into Sandrelli's nostalgic patient whom terminal illness has not robbed of her zest for life and optimism. And as Bruno's sister Valeria, Claudia Pandolfi illustrates another way in which Anna's life choices have left their scars on her kids.
Director Paolo Virzì does not saying anything profound with his movie, and the themes and plotlines are well rehearsed. But it's well made, warm and engaging. Both the 70s storyline and modern-day Anna's decline are absorbing. It may be soap, but this is superior soap. Italian style.
debbie.stowe@business-review.ro
Director: Paolo Virzì
Starring: Valerio Mastandrea, Micaela Ramazzotti, Stefania Sandrelli, Claudia Pandolfi
On: Grand Cinema Digiplex Baneasa