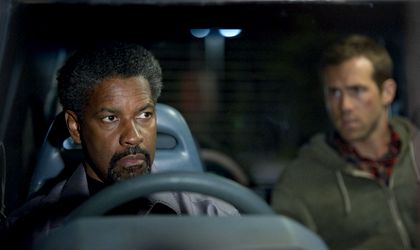 Those rookie CIA agents get into some scrapes, don't they? Frustrated newbie Matt Weston (Ryan Reynolds) has a non-job in charge of an underused agency safe house in South Africa, and starts the movie so bored that he spends his days throwing a ball against a wall, like Steve McQueen.
Regular readers will notice that this is the second edition in a row in which the reviewed film has had the word house in the title, and just as last week's Dream House turned into a nightmare, it doesn't take Lieutenant Columbo to deduce that the only certain thing at said safe house will be danger.
No surprise then when the CIA's most wanted rogue agent, Tobin Frost (Denzel Washington), is transferred there. Frost has just walked into the local US Embassy after being on the run with a microchip (one of the two basic plots of all spy films, the other being "hunting the mole").
Frost stands accused of spending the last decade selling American secrets (presumably the film is set pre-Wikileaks) so this would appear to be Denzel in bad-cop, Training Day mode. But wait. He's being chased by brutal mercenaries, about whom we know nothing apart from that they are foreign and swarthy, which is Hollywood shorthand for scum. So could it actually be Denzel in good-cop, Man on Fire mode?
After an Assault on Precinct 13-style siege, Tobin and Jason Bourne – sorry, Matt, are pursued around Cape Town by baddies, and the movie punctuates the pulsating car chases, shoot outs and explosions with some more reflective scenes where the idealistic new boy and the jaded veteran debate morality, truth and, like, other heavy stuff.
It looks like a Bourne film, sounds like a Bourne film and is edited like a Bourne film. There's the gloomy lighting and colors, shaky camerawork and choppy editing, rooftop chases, generic Middle Eastern bad guys and general subdued tone. It also adheres to the golden rule in uncovering the traitor in spy films: if there's one genial agency bigwig who is defending and helping the main character and another who is grumpy and skeptical, it's the former who will turn out to be the mole. Films don't get more derivative and predictable than Safe House.
But a movie that borrows from Bourne and does it well is still going to be a solid action thriller. It's taut, with the energy level rarely dropping. Though we know what's coming, it's dispatched stylishly enough that it's still entertaining to see it happen. Reynolds makes a handsomely hapless rookie who has to grow up fast and learn some life lessons, and there is a high-caliber supporting cast, notably the excellent Vera Farmiga (George Clooney's married lover in Up in the Air) and Brendon Gleeson (Colin Farrell's hitman mentor in In Bruges).
And then there is Denzel. Even a phoned-in performance from him (and this is more than that) elevates any film. A flash of the Washington smile, swagger and charm and Safe House's flaws are largely forgiven.
Debbie Stowe
Director: Daniel Espinosa
Starring: Denzel Washington, Ryan Reynolds, Vera Farmiga, Brendon Gleeson
On: Cinema City Cotroceni, Cinema City Sun Plaza, Cityplex, Gloria, Grand Cinema Digiplex Baneasa, Hollywood Multiplex, Movieplex Cinema, The Light Cinema