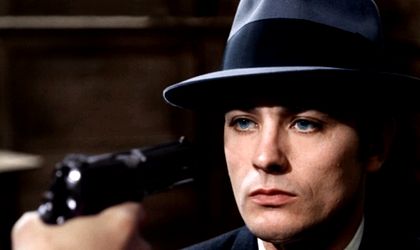 A shabby Paris hotel room, an achingly beautiful man lying on the bed smoking and a philosophical quote – what better way for a French film to start? "There is no solitude greater than a samurai's, unless perhaps it is that of a tiger in the jungle," reads the citation, attributed to The Book of Bushido. C'est très profond, non? But the book is bogus, existing only in the imagination of director Jean-Pierre Melville – a foretaste of the artfulness of this atmospheric 1967 film noir starring Alain Delon.
Debbie Stowe
Delon has often been accused of being a rather wooden actor, carving out a career on the strength of his looks rather than his talent – a French Keanu Reeves, si vous voulez. If there is any truth in that, then the role of taciturn, inscrutable Jef Costello seems an ideal fit. Here Delon plays a hot man – I mean, a hitman – cruising the streets of Paris in a stolen car and a sharp suit carrying out the wetwork of local gangsters. He's aided and abetted by long-suffering girlfriend Jane (Nathalie Delon) who provides him with alibis for seemingly very little gratitude or reward. Contract killers – they're so inconsiderate.
But then one job gets complicated. The cops – led by amiable inspector François Périer – are sniffing around Jef, his paymasters have stiffed him and a witness, nightclub pianist Cathy Rosier, is covering for him for dubious reasons. Zut alors! In the nearly half-century since its release, Le Samouraï has become a classic and much-referenced work. Most recently, Ryan Gosling's unforthcoming killer in 2011's Drive and George Clooney's expat assassin in 2010's The American have been compared to the character of Costello. The 1999 Jim Jarmusch crime-actioner Ghost Dog: The Way of the Samurai, starring Forest Whitaker, paid even more overt tribute. And Michael Mann's Heat (1999) shares the French-Italian noir's compare-and-contrast approach to the cops and killers.
Melville's movie betrays interesting influences of its own: there's a Hitchcockian feel to the long wordless sequences, tracking shots and meticulously composed set pieces. The story also shares the British director's misogynistic and marginalizing treatment of the female characters – even though the nightclub pianist is such a pro that when a gun is thrust in her face she doesn't miss a single note! But then women rarely thrive in film noir.
As with Hitchcock, there are comic touches too. These come mostly through some dry one-liners, the lion's share of which goes to Périer, whose wryly affable approach to crime-fighting is juxtaposed with Jef's laconic style of crime-committing. Mostly, though, Le Samouraï's pleasures lie in its tense atmosphere, and the thrill of an exquisitely crafted film: the neat structure (Jef pays three visits to the same nightclub, which demarcate the story's three acts), and the brio of the set pieces, including a suspenseful cat-and-mouse metro sequence. The main characters' motives, meanwhile, remain a mystery. Delon's unreadable, unsmiling visage yields no clue to Jef's innermost thoughts. It sure looks good, though.
Director: Jean-Pierre Melville
Starring: Alain Delon, François Périer, Nathalie Delon, Cathy Rosier
On at: Cinema Eforie, Sunday 8 June, 16.00 and Wednesday 11 June, 20.00. In French, with subtitles in Romanian.