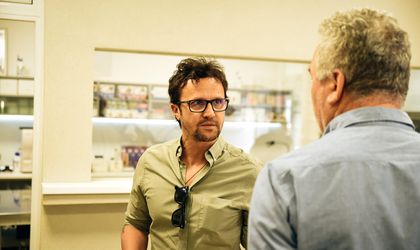 After having its world premiere in the competition of Festival International du Film Francophone de Namur (September 27 – October 4, 2019), Urma/ Legacy, the debut feature of actor and director Dorian Boguta will be screened nationwide starting March 3, 2020.
Synopsis says that a young man has disappeared; his sister and his girlfriend are mystified. The film accompanies two policemen as they investigate: collegial jokes, the everyday monotony of the work and, now and again, new leads. The missing person was fatally ill and yet he obviously wanted to make a mark before his departure. By any means necessary, as ultimately proves to be the case in this laconically captured psycho-drama.
Actors Teodor Corban, Marin Grigore (Sieranevada) and Irina Rădulescu play important parts, along with Dragoș Bucur, Mădălina Ghenea, Lucian Ifrim, Liviu Pintileasa.
A conversation with the Romanian director Dorian Boguta about Urma/Legacy
The movie
From being on camera to being behind the camera. What's the story behind your debut as a long-feature director?
A natural one, I would say. 10 years ago I made the first short film and in those three nights, as I filmed, I felt that I really like to direct. While every soldier dreams of becoming a general, I began to think more seriously about my first feature. The story has been in my head for many years, it is somehow inspired by an event from my personal life. And as I like suspense and author movies, I started to develop the idea more and more. First I wrote the script, then I rewrote it with Loredana Novac … I think for about 8 times. Then followed the pre-production, filming and so on until it was ready.
You've said that you are familiar with the topic for more than 20 years. Why now the movie?
I think the movie needed this amount of time to be as it is right now. Anyway, my personal belief is that everything happens on it's right time and it's not good to force it, especially something that you feel has not yet been formed as you would like, that it is something you could give up. There were times when yes, I would have liked the process to be faster, but I think the movie appeared when it thought it was better suited to appear, no matter how strange it might sound. It had its own energy which certainly influenced our appearance. From many points of view, me and my team just assisted it and took care to offer it everything I could, within the limits we had. But for sure this movie had a lot of love from me.
You declared recently that you wanted the best places for shooting. Which are the top three locations that you enjoyed the most filming? Why?
As if Alfred Hitchcock once said, "If you have no money to shoot, look for cool places!" – a good advice from someone who considered himself doing "well" in the art of film. And since I was on a budget for this production, I said to take into account the advice of the legendary director. I started looking for those cool places. Fortunately, our country has a lot to offer. I was looking for something to convey, somehow, a list of attributes such as greatness, tranquility, emotion, fear, suspense, history … and  I think I found all this and yes, I consider the locations that are seen in the film to be clearly one of the movie's strengths. Vidraru Lake and Corbii de Piatra Monastery are teo extraordinary locations that you can find in Urma/Legacy. But if I were to make a top spot … it would be very hard for me. You should try: Dobrogea region, the steppe area; Eforie seaside resorts in winter time and some villages in Transylvania. 
You already presented the movie at some international festivals. What were their reactions? Any feedback in particular you want to share?
It seemed to me that the reactions were mostly positive. This is what I heard and perceived, now it is possible that the team didn't tell everything, because like any author I could be sensitive when it comes to my work. But yes, it was a particular feedback that surprised me, especially since I didn't think the movie can offer this kind of reaction. Both in Belgium, Germany and in the Republic of Moldova, I was asked after the screening if the film is / has a therapeutic role. It kind of made the question difficult for me … I hadn't thought about this at all, so I always asked the question to the public: do you think it is? And I always received the same answer. 
The characters
How was the selection? Did you have in mind some actors for some characters or it was everything decided at casting?
The selection was a long-lasting one. Being a beginner, I had to make sure that my choices would be the most appropriate. I do not say perfect, but appropriate. I am very interested in the vibration that the actor would already come to me in order to match the character I have in my mind at least 60%, the rest we will try to build together. And for an actor to give you the best casting, he needs relaxation and confidence. That's something it takes time, so I'm under the impression that this method is a good fit, taking into consideration that the actors in my film are not only suitable, but very good – and it's their credit and I thank them. I distributed Dragoș Bucur and Teo Corban without casting because I know them very well and I went for sure.
It's Madalina Ghenea's first Romanian movie. How was the collaboration with her?
I am very happy that Urma/Legacy is Madalina's debut in a Romanian film. You know how it is: your  first love is never forgotten. And the collaboration with her is expressed through many recommendations I offered to those who are thinking of taking her in their films, after seeing her playing in "Urma". She plays an unexpected role, although for me since the casting it was clear that she will surprise many people with her talent. She really has all what she needs to play powerful roles.
You said in an interview that it's very important to have chemistry between characters. Is this the secret ingredient for a good movie?
I don't know if it's a secret or an absolute truth, but I know it's essential to me. When I make a film, I am interested, first and foremost, to bring the story to the fore. And if the actors, even very good ones, do not have chemistry between them, then what I want to bring in front of the audience … it will end before it starts. Besides, I like to give them some kind of freedom, I come from the acting and I know what that means. For this I explain very well what I want from them, where they are, what happens to them and then I leave them the freedom to build. Of course, within the limits of the situation and my vision.
The entrepreneurial path
You started 10 years ago the Film Acting School with Dragos Bucur and Alexandru Papadopol. Recently, you launched also a film studio in the city of Bucharest – with several facilities worthy for directors. What's next in your film business? 
Honestly, I'm still waiting for the studio to start working, because the investment was not small. That's why we try to bring all kinds of facilities to those who want to come and shoot with us, we try to develop and finish this concept. The school, already existing for 10 years, has reached a good point of sustainability, has a well-defined identity, it's well on its own feet.
What's your own legacy?
It's a question I've been thinking about for a long time and I still can't give a concrete answer. But I don't think this is a bad thing, it just means I'm still searching / making / discovering that "heritage". I hope that at some point you will come back with this question to me and I can answer you without shaking it.
Urma/Legacy is produced by Hai Hui Entertainment, in co-production with Mandragora, Actoriedefilm and Point Film. Dorian Boguta and Loredana Novak wrote the script; Barbu Bălășoiu (Sieranevada) is the director of photography, and Tudor Popescu – the editor of the film.