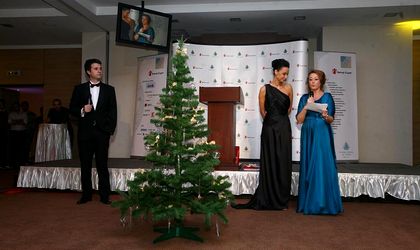 The Christmas Trees Festival, the Save the Children event now on its tenth year, has managed to raise EUR 2 million for the benefit of over 10,000 children over the last decade. However, an ever increasing number of disadvantaged children still need support for their social and educational integration.
For the 2010 event, Romanian fashion designers including Wilhelmina Arz, Venera Arapu, Stephan Pelger, Oxette, Victoria 46, Mihaela Glavan, Ana Wagner and Agnes Toma have prepared 20 Christmas trees, of which 10 will be selected for the charity gala taking place at Palatul Parlamentului on December 9.
The funds raised in previous years were spent on purchasing books for local school libraries, the school integration of working children, facilitation of access to education and school abandonment prevention for children from vulnerable environments. Their families have received financial support and advice in 18 centers across Romania, in Bucharest, Craiova, Iasi, Focsani, Bistrita, Petrila, Resita, Targu Mures, Timisoara, Targoviste, Constanta, Topoloveni and Brasov.
In 2009, EUR 275,000 was raised by the project.
Corina Dumitrescu