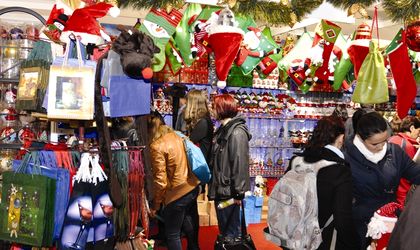 CHRISTMAS FAIRS
Sala Dalles
The traditional fair at Sala Dalles will be open until Christmas Eve. It takes the form of a small shopping gallery where visitors can find all manner of gifts for loved ones: clothes, toys, jewelry, sweets, organic cosmetic products, Christmas decorations and candles, plus food and beverages, all beautifully wrapped. A cup or similar item engraved with a message can be a personalized present for someone special.
Sala Dalles, B-dul Balcescu 18, Dec 2-24, Mon-Sat 10:00 – 20:00.
Romanian Peasant's Museum
The Peasant's Museum regularly
hosts a traditional Christmas fair with a local twist: craftsmen from all over the country, from regions such as Transylvania, Maramures, Oltenia Moldova, Bucovina and Dobrogea, come to sell the best of their region's traditions. If you wish to sample old-school Romanian foods, such as cozonaci, sarmale and pork sausages, this is the place to go.
B-dul Kiseleff 3. www.muzeultaranuluiroman.ro, Dec 16-18, 10:00-18:00.
Unirii Park
Every year at this time, a series of small wooden huts can be found in the park at Piata Unirii, to the delight of children who can choose from a range of sweets. The fair is mostly about food, rather than clothes or artifacts, so for those with a sweet tooth and foodies, it can prove to be a very useful stop.
SKATING RINKS
Cismigiu Skating Rink
The small lake in Cismigiu, the oldest public garden in Bucharest, which in summer hosts rowing boats, has been drained and turned into a skating rink of approximately 3,000 sqm, one of the largest open-air ice rinks in Europe.
Tariffs are RON 10 during the week and RON 15 at the weekends, and skates can be hired at the site.
Herastrau BTT skating rink
The Herastrau BTT artificial skating rink, which measures 1,300 sqm, has been welcoming winter sports lovers since the beginning of this month. Both veteran skaters and novices can take to the ice every day of the week. From Monday to Thursday, rink entry costs RON 10, rising to RON 15 from Friday evening to Sunday. Skate rental is also available.
Herastrau Park (near the tennis courts).

Ice Park Piata Unirii
Located in Unirii Square, right in the heart of the capital, the approximately 1,000-sqm Ice Park is part of a winter ensemble that also includes wooden huts selling all kinds of goodies, a bar area, a stage for shows and events, music and lights.
Tariffs are from RON 10-15, and skates are available to rent.
PET HOTELS
Pluto Pet Hotel
The first pet hotel in Bucharest lodges cats and dogs alike in individual rooms with furniture, television sets and under-floor heating. The rooms, which are video monitored, are decorated with objects that are familiar to the pets, who enjoy daily outdoor walks and a regular meal schedule. The hotel has 16 rooms, of which two are reserved for VIPs (Very Important Pets). One night at the hotel costs between RON 45 and 120.
Strada Barbu Vacarescu 162-164. www.planetahamham.ro.