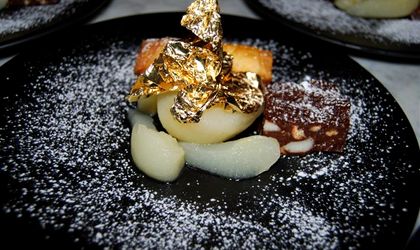 Chaine des Rotisseurs, an international gastronomic association, will organize the first ever Chapitre of the Chaine in Romania between January 22- 24 in Bucharest.
The Chapitres of the Chaine are gala events which celebrate the induction of new members which include fine dining events, often black tie, in the best local restaurants and hotels, as well as less formal occasions. Dinners are often held in settings such as museums, galleries, private clubs, and historic buildings.
Chaine des Rotisseurs is dedicated to bringing together members worldwide who appreciate and share a mutual interest in cuisine, wine and fine dining. However, be prepared for a portion of cuisine discipline. A meal is a serious affair for La Chaine, that is why guests are asked to obey commandments that the average restaurant- goer may fiind a little bizarre: for example, it is not recommended that salt and pepper are kept on the tables. Also, mobile phones must be switched off and it is not allowed walking around during meals.
For a full list of La Chaine events, their locations and tarrifs, check below!
Otilia Haraga
Friday, January 22- pre-program
19.30 Romanian Dinner at 4 Anotimpuri Restaurant
Live music, Romanian specialities (optional event)
Dresscode: Casual; Address: Nordului Road
EURO 35,00/Person
Saturday, January 23 – Chapitre
11.00 The Induction Ceremony– Parliament Palace
Dr.Roberto Zanghi, Bailli delegue d'Italie, member Conseil
13.00-14.00 Guided Tour in the Parliament Palace
14.15 Lunch at Parliament Palace
Dresscode: Formal
19.30 Gala Dinner – Intercontinental Hotel, 21st floor
A Nigt with Raffaello
First Class meniu with 7 courses, artistic presentations,
Dresscode: Black Tie
EURO 320,00/Person ( Ceremony, Lunch, Gala Dinner)
Sunday, January 24th
11.00 Special Chapitre Brunch – Athenee Palace Hil¬ton Hotel
Dresscode: Casual (optional event)
EURO 55,00/Person