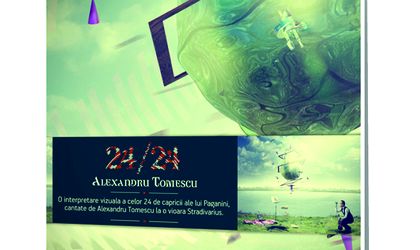 While the euro zone seems to be falling apart, here is proof that a more perfect union is possible. The music-video DVD 24/24 unites the artistry of three 'master blasters' from different time zones – a Romanian virtuoso violinist, Alexandru Tomescu; an Italian heritage composer, Niccolo Paganini; and a Grammy-winning German recording engineer, Jakob Handel.
Tomescu recorded 24/24 upon the recent completion of his national concert tour performing Paganini's 24 Caprices on a 1702 Stradivarius (awarded on a five-year loan from the Romanian government). The DVD title refers to Tomescu's extraordinary preparation for the concert tour, playing the 24 Caprices seemingly 24 hours a day for several months. For Tomescu, the process of 'becoming Paganini' involved surpassing the barriers of difficulty (technique, memorization), to reach that space where the impossible becomes possible. Among the most difficult pieces for violin, Paganini's Caprices are rarely performed in ensemble even by the top violinists.
Incredibly his first opus, Paganini composed the 24 Caprices for solo violin during 1802-1817, but never performed them in public as he wanted to perfect their artistic dimensions (virtuosity was not their ultimate scope). Although 24/24 is not a live recording from the concert tour, it provides a rare opportunity to hear all 24 Caprices and to appreciate their different techniques, themes and colors. Such contrasts are further illustrated by their nicknames, bestowed by the famous violinists who have performed them over the past two centuries. Among my favorites are no. 5 'Bungee', no. 18 'Horn of the Stagecoach', and no. 11 'Canzonetta' (a song for multiple voices) which I would nickname "Paganini Resurrected'.
Adding to his discography of 11 CDs, Tomescu's first DVD is truly exceptional thanks to the recording producer and engineer Jakob Handel. Unlike some of Tomescu's prior recordings, which were mediocre at best, or certain live performances where the acoustics were poor (the venues were not designed as concert halls), Handel succeeds in crafting a much richer and powerful sound for Tomescu's vintage violin (an instrument designed for intimate chamber music rather than large concert halls). Handel was awarded a Latin Grammy for best classical album (plus subsequent Grammy nominations), and has recorded for several major violinists. Using remarkably compact recording equipment, he can also work with clients outside the studio, and so was able to record Tomescu at the Bucharest Conservatory of Music.
The DVD also features an interview with Tomescu (regrettably not subtitled), which provides unusual insight into both violinists. As a Paganini Competition winner, Tomescu was awarded the rare opportunity to perform on the master's Guarneri violin (a 'bail-out' gift from an Italian count, replacing the Stradivari which Paganini lost in a card game). Although both Guarneri and Stradivari violins performed as their 'leading lady', Paganini ultimately favored his 1743 Guarneri ('the cannon'), whereas Tomescu prefers the 1702 Stradivari (Elder-Voicu).
The video segments, which were filmed in Romania, include scenes of Tomescu playing the violin at Cantacuzino Castle (Zamora) and in a glass-processing warehouse. Footage detailing a violin's deconstruction and construction at the Gliga factory (Reghin) provides a subtle reminder of the cycle of artistic creation. I usually dislike the combination of video with classical music, as I find it gratuitous and distracting. But to my surprise, the video images produced by Quartz Media added a gentle backdrop that allowed me to focus on listening to the music.
Testing our patience to listen, especially in an era when we lack patience with each other and ourselves, is Tomescu's ultimate goal for 24/24. 'Bungee jumping' is the phrase he uses to describe his endeavors to introduce the general (and younger) public to Paganini's 24 Caprices and the distinct sound of a tri-centenarian violin. 'Bungee jumping' also captures the essence of musical expression, which for Tomescu, means passing boundaries and exploring new dimensions where "imagination is the final frontier of the free spirit".
So imagine that our universe is a symphony of vibrating strings and parallel dimensions, and that somewhere in the 11th dimension, this DVD is discovered in a 'best of EU' time-capsule. The enclosed review would read "a rare import from humans of different tribes; a fine example of artistic virtuosity transcending the frontiers of time and other dimensions; an excellent holiday gift for aficionados and newbies to fourth dimension music; product warning – highly addictive, inducing countless hours of replay."
Andrea Ovanezian
E.N.: Tomescu references from DVD interview