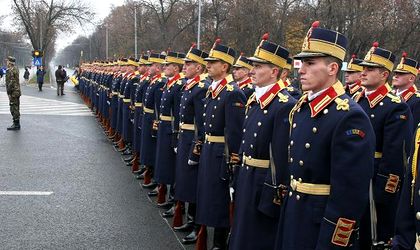 As is the tradition in post-communist Romania, the country will celebrate its National Day on December 1 with a military parade. The event will take place in the Arcul de Triumf area, at around 11.00, though the spots with the best views fill up earlier. Traffic restrictions will take place due to the military parade.
December 1 marks Marea Unire, or the Great Union, which occurred in 1918, when Transylvania (formerly part of the Austro-Hungarian empire, yet inhabited by a Romanian majority) was united with the Principalities of Romania (Wallachia and Moldavia). The Union occurred under the rule of King Ferdinand. Before 1990, Romania celebrated its National Day on August 23, when Romania switched sides from the Axis to the Allies and the country took Russia's side in World War II.
December 1 is a public holiday for many Romanians so expect to find many shops or locations closed. Celebrations and ceremonies will take place all across the country, but most importantly in Alba Iulia, where the union was formalized in 1918.
Traffic restrictions will be set on December 1 on Kiseleff Boulevard, Arcul de Triumf Square, as well as adjacent streets, all roughly within the 05.00 – 14.00 interval. 
Recommended alternative routes by the Bucharest police:
Bucuresti-Ploiesti Road – Presei Libere Square– Montreal Square – Marasti Boulevard –  Alexandru Constantinescu Street – Domenii Marketplace – Ion Mihalache Boulevard.
Bucuresti-Ploiesti Street– Presei Libere Square – Montreal Square – Marasti –Alexandru Averescu Boulevard – Turda Street– Grant Bridge.
Victoriei Square – Aviatorilor Boulevard – Nicolae Caramfil Boulevard – Aerogarii Boulevard– DN1.
Stefan cel Mare Road – Barbu Vacarescu Street – Aerogarii Boulevard – DN1.
Corina Dumitrescu