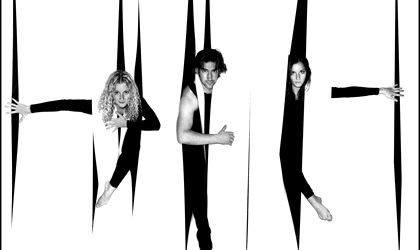 Between August 28-30, the National Peasant Museum opens its gates for the first edition of the International New Arts Festival, entitled InnerSound.  The festival's format was created by young artists in Romania. The organizers, which include OPUS Association, The National Peasant Museum, The Peasant's Club, The National University of Music in Bucharest – The Center of Electroacoustic and Multimedia Music, plan to offer their Bucharest audience a fresh sonic and visual oasis at the end of an extremely hot August.
The symbol of InnerSound 2012 is the window opened towards ourselves, towards our own dreams and creative ideas – a window that, hopefully, will allow the audience to look into a world of mystery, of aural and visual magic. The symbol was extracted from a photo by Sabina Ulubeanu.
InnerSound plans to offer a new perspective on the art of music by including it in different visual projects such as photography exhibitions, silent short movies with live music or multimedia shows. Participants at InnerSound are musicians, photographers, visual and film artists from Romania, Holland, Ireland, Greece and Switzerland.
The program of the event is listed below. Tickets can be found at http://www.bilete.ro/ or in Post Offices with a Bilete.ro sign, as well as Unirii 1 metro station. Tickets for one day cost RON 10, while subscriptions cost RON 15. Details about the festival can be found at http://www.facebook.com/InnerSoundFestival.
DAY 1 – Tuesday, August 28
The National Peasant Museum – "Oaspeţi" Hall
11:00 – Festival Opening
InnerSpace – Photo Exhibition (Sabina Ulubeanu, Mirona Radu, Cristina Irian, Gyuri Ilinca, Horia Nitu, Cornel Brad etc.)
Inner Dust – Audio-video interactive performance: Cătălin Cretu, Mihaela  Kavdanska –  (KOTKI Visuals), Luiza Neumayer – performer; project sponsored by Aiurart and Noumax
12:00 – Creative workshop
The National University of Music – the Opera Studio
19:00 – Dublin Sound Lab (Ireland) – Multimedia performance (70')
Michael Quinn (harpsichord) and Fergal Dowling (computer)
Kaija Saariaho, 'Jardin Secret II' [harpsichord and 4-channel 'tape']
Gerald Barry, 'Sur les Pointes' [harpsichord solo]
Fergal Dowling, 'Stops' [harpsichord and MaxMSP]
William Byrd, 'Caleno Costure Me' [harpsichord solo]
Jonathan Nangle, '8-channel tape piece'
Jean-Claude Risset, 'Pentacle' [harpsichord and 8-channel 'tape']
20:30 – SeduCânt : SerpenS – Multimedia performance (40')
Irina Ungureanu (soprano), Ana Chifu (flute), Maria Chifu (bassoon), Zacharias Tarpagkos (flute), Sorin Rotaru (percussions), Lucian Martin (dancer); Music: Diana Rotaru; Choreography: Lucian Martin; Visuals: Mihai Cucu
DAY 2 – Wednesday, August 29
The National Peasant Museum – "Oaspeţi" Hall
18:30– Interraction with the installation
19:00 – Encounters in time and space I – solo pieces recital in InnerSpace
Ana Chifu (flute), Maria Chifu (bassoon), Alexandru Tomescu (violin), Irina Ungureanu (soprano), Tamara Dica (viola), Laura Buruiană (cello), Zacharias Tarpagkos (flute)
The National Peasant Museum – Outside court
20:00 – Film night: Short silent films with live soundtrack
Film makers: Mirona Radu, Mihai Cucu, Emmanuel Flores, Oana Nechifor, Adriana Sandu, Ana Niţă, Dilma Yordanova (KOTKI Visuals)
Composers: Sabina Ulubeanu, Darie Nemeş-Bota, Diana Gheorghiu, Cornelia Zambilă, Cristina Uruc, Cristian Lolea, Victor Colţea, Adina Sibianu
Ensemble: Ana Chifu (flute), Maria Chifu (bassoon), Tamara Dica (viola), Laura Buruiană (cello); conductor – Gabriel Bebeşelea
DAY 3 – Thursday, August 30
The National Peasant Museum – "Oaspeţi" Hall
18:00 – Interraction with the installation
18:30 – Encounters in time and space II
19:30 – Henry Vega: Wormsongs – Multimedia performance (1h)
Anat Spiegel (voice), Henry Vega (computer), Emmanuel Flores (live video)
The Peasant's Club
21:00 – Why Not? – RenaiScienceFiction Chess Game Concert (1h)
Addresses: National Peasant Museum – 3 Sos. Kiseleff (near Piata Victoriei)
The National University of Music – 33 Stirbei Voda Street (near Cismigiu Garden)
Oana Vasiliu