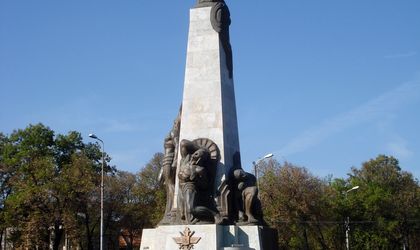 With the occasion of the military and religious ceremonies organized on Aviation Day, several traffic restrictions were and are to be made in downtown Bucharest. In the morning, the Romanian aviation showcased its most important aircrafts, with MIG 21 Lancer as the star of the show. In the evening, in the Aviatorilor Square, the solemn call will take place, as well as a torchlight ceremomy.
Between 08.30 and 10.30, traffic was closed both ways in the proximity of Aviatorilor Boulevard and Victoriei Square. This evening, between 21.00 and 22.00, traffic will be restricted on the first lane of circulation on Aviatorilor Boulevard, between Ion Mincu Street and Victoriei Square. Policemen recommend to drivers to use detours, so as to avoid traffic and restrictions. More information about the recommended routes can be found on the Bucharest Police section's website.
Aviation Day is held in Romania with the occasion of the Christian celebration of Saint Ilie (Elias or Elijah in Western Christianity), the patron saint of aviators. One of the most important prophets of the Old Testament, Saint Ilie is celebrated in Romania as a miracle performer and as a rain bringer in times of drought.
 Corina Dumitrescu