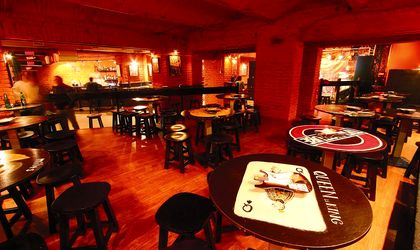 Niche or mainstream, fresh or old-school, the HoReCa scene in Bucharest does a lively trade with full-to-the-brim terraces in summertime and overcrowded night clubs on almost any given Friday. Some of these venues may come and go, but right now there seems to be enough room for everybody, from the eccentric to the casual. Business Review casts an eye over some of the more unusual newcomers, as well as some more established locations that are now gaining a tradition.
SkyBar hits the heights
Opened in April, after nine months of preparations, SkyBar has brought a new concept to the Bucharest leisure scene: a roof bar, inspired by similar locations in Los Angeles.
Covered with a retractable roof, the bar was the result of an investment of around EUR 250,000, which SkyBar officials hope to recover in three years' time. Addressing a medium- to high-earning clientele, businesspeople and tourists, the eclectic music menu includes chill-out sessions during the daytime, and cocktail-suitable rhythms later at night. So far, peak times for the bar have been May and June, as well as weekends, when admission was by reservation only. Subsequently, Wednesday and Thursday have also become busy nights.
Situated in Bucharest's poshest neighborhood, Dorobanti, SkyBar uses location and design as its key differentiators. With the latter by Mihnea Ghildus, the venue boasts branded decors and futuristic facilities.
Attraction Club swings into action
The swingers' club for the sexual elite – this is the motto with which Attraction Club was launched in Bucharest on August 28. In spite of its newness, it is already receiving significant media attention due to its openness towards sex. Are Romanians, still a tradition people, ready for out in the open polygamy?
Roxana Ionita, owner and manager of Attraction Club, thinks they are. She is not concerned about her EUR 80,000 investment, made "in a city which is getting more and more cosmopolitan and with an elite consuming sophisticated entertainment". Budapest, for example, has over five swingers' clubs, says Ionita.
Things are looking up for the new venture – since the opening, over 50 people have participated in every event, a number which Ionita says is increasing week by week. Currently open only on Saturday, Attraction Club will also extend to Fridays. But it is not only the local swingers who attend Attraction Club, Ionita adds; many customers come for the intimate atmosphere, completed by the seductive music and the sophisticated design created by a team led by scenographer Adriana Raicu.
Espace Nunu, an eclectic mixture of wine, slow food bar and object gallery…
… for sophisticated snobs!, the location's description continues, who are, Espace Nunu's Stefan Cosma explains, "people that have both good taste and money". Nunu is an eclectic location on the Bucharest scene and its openness towards artistic, design and gastronomic events is the main aspect meant to set it apart from other similar locations, which, to Cosma's mind, do not really exist in Bucharest, for the moment.
Having opened this year in June, Nunu was a wine bar and object gallery at its core, which shortly developed into a bistro, in a little while replaced by the idea of conceptual dinners, held only for a small number of people. The setting is meant to make the difference in this location, as Nunu is an "artist-run place", as Cosma describes it.
The initial investment involved purchasing the two-floor house and garden at Constantin Coanda 24 and their "maximalistic" decoration with furniture and objects which initially belonged to Cosma, also a freelance decorator. Not yet having a site of its own, Espace Nunu does however have Facebook profile that has managed to attract over 3,500 friends in three months.
Shift Pub, cultural retreat and pre-party location
Brought onto the scene in May by the team behind the indie/alternative Control Club, Shift Pub was conceived as a more relaxing location, a counterpoint to the more energetic atmosphere of the already well established club.
A cultural pub/bistro, Shift also deals with cultural events meant to attract a niche clientele from an alternative professional background such as new business, media, art or music, Florin Oslobanu, Control Club and Shift Pub manager, says. Concerts, auditions, launches, workshops and theme parties set the tone at the bistro.
With an initial investment of EUR 40,000, the location has so far reached a peak of 250 customers, "which is good considering the pub's dimensions", adds Oslobanu. Jazz, electronic music and post-rock rhythms can be heard in the chill-out location, which also has a flower garden open on warmer days. Created as an annex to Control Club, which has access to a customer base of 5,000, the location is now attempting to position itself as pre-party location, which revelers can attend before going to the club, in order to get in the mood.
So, in spite of the more financially difficult times, there is apparently still room for new HoReCa locations in Bucharest. All these new players are fighting (successfully, so far) to stand out through their concepts, an exquisite setting, high-class clientele or special location. Meanwhile, on their way to becoming veterans, with at least one year of existence, more experienced pubs also play their role in the Bucharest pub and bar scene: Mojo, Van Gogh, the Silver Church Club, El Grande Comandante and Green Hours.
Club Mojo, live music, karaoke and repeat customers
Mojo appeared on the Bucharest bar scene in the old city center in October 2009. Michael Fraser, one of the partners responsible with the founding of Mojo, explains that what sets Mojo apart from other clubs in Bucharest is the fact that it provides seven nights a week of karaoke and five nights of live music. Another plus, as Fraser continues, lies in the benefit of it managing to attract "repeat customers", clients who become regulars of the place and become familiar with the staff and owners. What's more, "we have the advantage of 3 floors meaning we can have different events going on simultaneously", adds Fraser.
The live music club basically addresses "good people who like good music and good times", as Fraser puts it. The music that Mojo focuses on is oldies, as well as party music and new hits. The club's band, coincidentally named Mojo, tends to play more rock and Brit hits, as well as oldies but mostly new music. The club also hosts concerts, which is the case of The Sex Pistols Experience, the world's only professional tribute band to Sex Pistols, who will hold a concert in the club on November 13.
The peak number of clients that the club has so far reached was of 700 and the occasion was Halloween, which Fraser hopes for this year to at least do the same. Regarding the initial investment and this year's turnover, Frased did not reveal them, yet declared that "we can say that we have hit all our first year targets and are confident that this will roll over into the second year".
Grand Café Van Gogh, a Dutch experience in downtown Bucharest
Opened in October 2009 in Bucharest's historical center, Grand Café Van Gogh is the result of a EUR 150,000 investment, which is to be recovered in three years, as one of the two owners, Jerry Van Schaik explains. Self-described as "a slightly intellectual, cozy relaxed, cosmopolitan neighborhood cafe", the location also manages to bring the atmosphere of a genuine Dutch café through its décor and menu.
Joni Mitchell, Miles Davis, Burt Bacharach, lazy lounge and funky jazz are in the café's music preferences. The quiet setting is preferred by professionals who opt to deal with their work in a setting friendlier and perhaps more inspiring than that of their office.
Van Schaik expects a turnover of EUR 600,000 for the end of 2010. The location also benefits of a wine bar and shop, down the stairs from the Grand Café, a place where Romanian and foreign wines can be enjoyed with Dutch cheeses. In the same building as the café and wine bar, on the first and second floor, Van Gogh Spaces provides rooms for both business or private purposes.
The Silver Church Club, number one in Live Concerts events in two years
The Silver Church Club opened in November 2008 to shortly become "number one in Bucharest in the organizing Live Concert events. These events are concerts of very big bands from outside the country, most of the album launches made by Romanian bands, and others events, like product launches, fashion shows, and more", as Adrian Soaita, managing partner of TSC explains.
The client peak was reached at the Ramones concert that took place in December 2008, attended by over 1000 people, a situation repeated at local band Travka's launch this spring, with 1000 people waiting inside and 600 queuing at the door.
Responsible with the club's design, concept and name was Igloo Architecture and especially architect Bruno Andresoiu. The location's main target is over 25, corporate, intellectual, with average (and above) income.
El Grande Comandante, for the young and the rebellious
El Grande Comandante was opened in 2007 and is part of the El Comandante group, which includes four other locations, El Comandante Primer, El Comandante, El Grande Comandante, La Historia and the most recent, El Dictador.
All these locations are created around the image of the Argentinean revolutionary Che Guevara, also known as El (Grande) Comandante. As club representatives declare, the music chosen by El Grande Comandante is to the liking of more than one generation, to the nostalgics as well, from rock to oldies and hardly any new hits.
Addressing a varied array of people united by revolutionary beliefs, the club has many paintings depicting Che Guevara, as well as brick walls and wooden furniture, also intended to catch the eye of nostalgics. Plays and video projections are part of the club's regular schedule, as well as karaoke nights and singles' parties.
Green Hours Jazz-Cafe, for 16 years in the niche business
If some of the examples mentioned above are examples for niche locations created in times of crisis, Green Hours is a veteran in the field, showing that a jazz-oriented club can survive in Bucharest, for better or for worse.
Launched in September 1994, Green Hours necessitated an investment "certainly 20 times smaller than what a pretentious location would require now", as Voicu Radescu, the club's manager explains. A mixture between jazz concerts, alternative theater (Green Hours has its very own theatre, Teatrul Luni / Monday Theater) and all sorts of cultural events (from art exhibits to hand-made accessories fairs), Green Hours has managed to bring a record of 350 in its garden, at the end of May 2010, with the occasion of International Jazz Fest. As Radescu continues, in the underground space, the theatrical representation of Sex, Drugs Rock and Roll, directed by and starring Florin Piersic Jr., and the concerts of the surprising Ada Milea, each bring an attendance of at least one hundred (which is considerable, given the location's limited space).  
Indeed, Green Hours benefits of a wider niche, that of jazz music, long-established beyond the borders as Romania, as well as within. Alternative theater is also gaining more and more enthusiasts among Romanians, yet Teatrul Luni has been functioning since 1997, thus having a consistent tradition in the area. Although the turnover for this year might be lower than before, which is also due to the recent renovations that the location is going through, Radescu believes that next year the situation will improve due to the jazz artists that have announced their arrival and the future plays that the Green Hours theater has in store.
Corina Dumitrescu