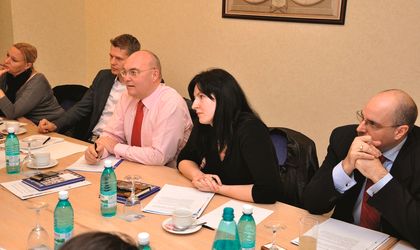 Jury members met last week for the first round of the judging process for the BR Awards. The 2010 Business Review Awards are set to take place on March 4 next year, marking the fifth edition of
this event aimed at recognizing the business achievements of the previous year.
This year's jury is made up of Steven van Groningen, president and CEO of Raiffeisen Bank (also last year's Businessman of the Year); Oliver Olson, country manager of CEU Business School Romania; Peter Jansen, managing partner of Cohn&Jansen; George Alberts, president of KD Investments; Ion Florescu, GM of New Europe Capital; Matei Paun, managing partner of BAC Romania; George Mucibabici, chairman of Deloitte Romania; Alexandra Gatej, counselor with the Romanian presidency;
Eva-Simone Perauer, managing director of Casa Austria; Sorana Savu, owner of Premium Communications; and Friedrich Niemann, GM of the Athenee Palace Hilton. van Groningen will serve as jury president and cast the decisive vote in the event of a tie. This year, the jury has adapted the categories to reflect new sectors of interest in the Romanian economy, with prizes such as the Clean Business Award and Sustainable Business Practices Award. Additional information to help the judging process will be gathered until the end of January.