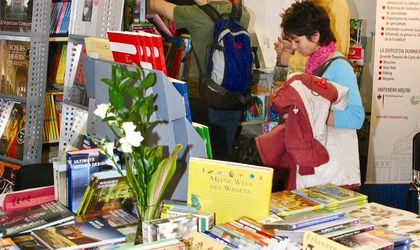 The annual event BookFest is returning to Romexpo. The literature fair is an opportunity for people to enjoy a break from the turmoil of modern life, and take a moment to re-discover things they have lost and develop their relationship with themselves.
"Everything starts from books: ideas, emotions, discoveries, places and occurrences. You find out all kinds of things, you enrich your spirituality, live hundreds of interesting lives, travel throughout the world. Books give you TIME for all these, don't worry! A page can be fuller than entire days in your life," said BookFest officials.
This is the fifth year in which this extensive exhibition for avid readers has been organized. Running between June 9 and 13 it will occupy pavilions 13-17 of Romexpo. Spain will this year be the guest country, as part of plans to make an international presence at the fair a tradition.
There will be various roundtables with six novelists, two playwrights and two Spanish translators. There will also be a series of concerts opened on June 9 by a Spanish flamenco recital, featuring guitar and percussion. BookFest is organized by the Association of Editors in Romania.
Otilia Haraga