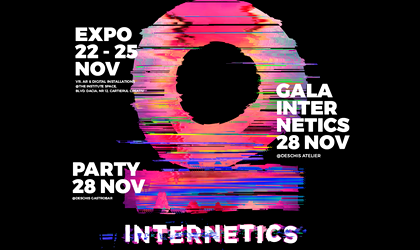 Alongside its 18th edition, Internetics Festival, a project initiated by The Institute and presented by UniCredit Bank, aims to celebrate the digital industry through a virtual reality (VR), augmented reality (AR) and digital installations exhibition – Internetics Interactive Expo. The event is organized in the period 22-25 November at The Institute Space, 12 Dacia Boulevard, in Cartierul Creativ (The Creative Neighbourhood). Public access is free between 10:00-22:00, with the exception of November 22nd, when the opening hours are 19:00-23:00.
By Romanita Oprea
The exhibition unveils the way digital technologies and creative industries interact, offering visitors the possibility to explore the creative content in a new context and from an immersive perspective. At the same time, it provides a road where the visitor interacts with digital projects in the art, gaming and entertainment, social, but also commercial areas, produced by international studios, as well as by the local digital sector.
The section dedicated to the international projects is curated by Maria Guta and brings to Romania works selected at some of the most famous international VR festivals in Europe. Maria Guta is an independent artist whose creations, especially VR installations and photography projects, were exhibited in Tokyo, Berlin, Paris, Milan or Zurich. Between 2016 and 2018 she collaborated with World VR Forum, from the position of chief curator and art director.
Among the projects presented at Internetics Interactive Expo are:
– a series of 360 documentaries that explore local subjects, such as the life in Danube Delta or how the Circus in Bucharest changed after animals were banned in shows, as well as international themes such as the bustle of big cities such or the drama of deported families;
– tourist experiments, such as a bike ride in London, one of the most lively European capitals;
– the VR representation of a historic moment for Romania – the signing of the Alba Iulia Declaration on December 1, 1918, in the context of the 2018 anniversary of the Big Union Centenary;
– VR games where the user discovers virtual worlds and fantasy landscapes;
– works created by Romanian artists that come to life through AR;
– commercial projects that propose the testing of some brands' products in virtual reality.
The festival also includes the Internetics competition that awards the best campaigns in branding, marketing and online advertising in Romania. This year, agencies compete in all main categories: Digital Platforms, Digital Strategies and Interactive Campaigns. The gala to announce the most efficient and creative projects in the online world will take place on November 28th, at Deschis Atelier (Nod makerspace, Splaiul Unirii 160), followed by a party with free access at Deschis Gastrobar.