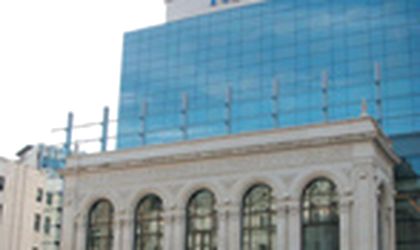 Look again at the 'Lebanese' menu and you will see that everything can be bought in Romania, with no effort being made to import real Middle Eastern produce. But wait. For the first time there is the opportunity to sample the real stuff at the Novotel.
They have imported two top chefs from Cairo for their Oriental Food Week starting this Wednesday 14th and running until Monday 19th. So let me walk you through a genuine Arabic menu, none of which will you find anywhere other than the Novotel.
There is 'Shish Tawook.' This dish is served in most restaurants in all countries throughout the Middle East. It is made by marinating chicken breast in yoghurt, mustard, onion, garlic, paprika, allspice, tomato paste, cinnamon, cardamom and peppers. Thereafter is is roasted over charcoal.
If you think that this sounds a little Indian, you will be correct. If you look at a map of the world, the 'Middle' as in 'Middle East' means what it says. It was the center of the planet's spice trade from the 12th century onwards.
Then they offer you 'Fish Sayadeyah.' This is a Saudi dish emanating from Jiddah. Being a port, seafood dominates the cuisine of this area and they serve it with dark brown rice, spiced and marinated fish together with caramelised onions.
For veggies, there is 'Koshary,' the quintessential national dish of Egypt. It is so popular that you will find Koshary restaurants in Egypt which serve nothing else but this one dish. It is made as follows.
You start with macaroni and spaghetti. Wait, I hear you say. Surely this is pure Italian. But no! Do not forget that pasta was introduced to Italy from China, allegedly by Marco Polo. But contemporary historians have de-bunked him as a liar and fraud and they must be right. How can you believe a man whose very name sounds like a pimp? OK, let's move on with the recipe.
To the pasta you add rice, black lentils, chickpeas, garlic, tomato paste, hot chillis and top with fried onions. I can't wait to go for it.
Lamb must dominate all Middle Eastern cuisine as a staple. So it is not surprising to find lamb kebabs on the menu. But they also promise us a roast lamb (or a turkey) at the carving station. A turkey! What? I have never seen shepherds marshalling flocks of turkeys across the Middle East, each one with a bell around its neck. No – it has to be lamb.
The event is a buffet, rather than the plated alternative, There is a good reason for this, namely that they have 19 starters for you to select from. Certainly there are the 'usual suspects' you get in the boring Bucharest Lebanese joints. This means; hummus, olives, 'taboule' (cracked wheat, parsley and tomato) 'fatoush' (tomato, lettuce, onion, lemon and fried pitta bread).
But in addition they also have 'Baba Ghonouj' (fried aubergine, tahina sauce, garlic, lemon yoghurt and parsley) and three different versions of 'sambousik' (breaded cake containing lamb, fennel, poppy seeds and cumin), 'Mouhamara' (a dipping sauce made from pine nuts, walnuts, chillis, red pepper, cumin and pomegranate syrup)… and so much more.Lovers of sweet, Greek-style desserts will not be disappointed with lashings of honeyed Lebanese desserts.
I do admire the people of the numerous nations of the Middle East for maintaining culinary ethics. Remember that the borders of the entire Middle East were a creation of the British in 1918. Prior to that period, the region was owned and run by Germany, France and Britain. Due largely to nomadic traditions, the local population did not succumb to the temptation of adopting European culinary values and we are now the richer for that decision.
There is a fixed price of RON 120, which represents great value considering this price includes a combination of soft drinks or beer.
Michael Barclay
mab.media@dnt.ro