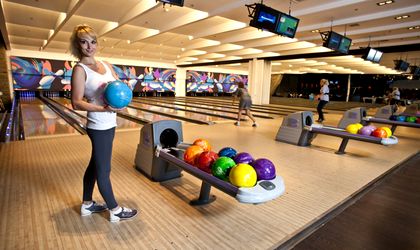 The first Club Oxygen location was opened in Bucharest, in Sun Plaza commercial center, in May 2010, after a EUR 1,800,000 investment, which is aimed to be recovered in four years' time, as states Ion Tanasescu, the club's general manager. The venue comprises a bowling, darts and pool area, as well as a restaurant, a terrace and a playground.
The advantage of the location, as Marius Piticariu, local pool, darts and bowling champion who has helped develop the club, explains, lies in the fact that "all these three sports can be found in the same place, without being separate and thus practically promote one another".
The 2000 sqm location has eight bowling alleys, 20 pool tables and two darts equipments and also includes a 240 sqm terrace. The restaurant initially focused on Italian food but has now broadened its palette with American so-called "finger food".
Tanasescu expects a EUR 700,000 turnover for the first year and will launch a new club in 2012 in Promenada Mall, the new shopping center that will open on Barbu Vacarescu boulevard. The total investment in the professional bowling and pool equipment of the current venue reaches EUR 600,000, and is considered to be the most modern in Romania, at the moment.
Open Oxygen Tournaments are also organized at the location, for both professionals and amateurs alike. In January 2011, Piticariu and Tanasescu have announced that a competition for Eastern Europe will be started, with more consistent prizes than the ones offered now (to reach an estimate EUR 2,000 – 3,000 for first runner-up). A fee for one hour ranks between RON 29 and 100, depending on the date and time, as well as on the possession of a membership card, which brings several discounts.
Corina Dumitrescu